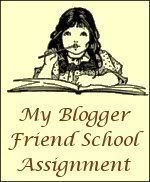 The Assignment:
This is WACKY WEEK here at Blogger Friend School! Everything is wacky fun! This week YOU, the student, get to share something of your choice that is little "Wacky"!!!
Have you done something crazy in your homeschool? Do you fingerpaint with your toes? Do you let your children do your hair? Do you wear your pajamas during homeschool? Oh, the list is endless, but it's up to you and how much fun you want to have.
To make it even "wackier" (not sure if it's really a word, but hey, we don't check spelling this week at BFS either!!!…..try and type some or all of your post sdrawkcab. (backwards!)
!keew gnixaler dna nuf a siht ekaM
(…and forwards…Make this a fun and relaxing week!)
My kids are always wacky. They cracked me up with their everyday antics. To chose one would be very hard. You can see some of the ways they have fun in these other posts.
September Pie, Popcorn Dragon, Funeral For a Tractor, Dreher Island Vacation, Flashback Friday- Hair, Up a Tree, Christmas Decorations, Yummy Success, Results of Fun in the Mud, and Summertime Fun.
We don't deliberately do anything crazy, it's just the way we are. One thing that I do that drives my kids nuts is that I often sing to the music in the background of our lives. In the car, in the grocery stores, at restaurants, whenever I hear a song I know the lyrics to. When they were younger it wasn't an issue, but now my daughter will snuggle in to try to make me stop and my son tries to distance himself from me. I tell them that I sing because I'm happy and to worry when I stop. It brings about smiles from those around me and sometimes strange looks form others. We are love the life that God gave us and want to live it to the fullest.
.era ew ohw era ew dna ,ma I ohw ma I