Show of hands.  Who would love to have their meals planned, shopped for, and delivered to their doorstop once a week for them? With Hello Fresh this is a reality.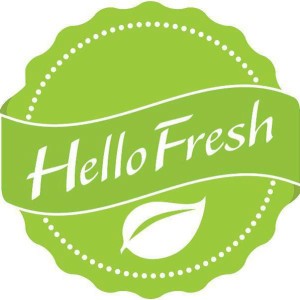 As my last review of the year and for the Mosaic Reviews team, I was so very excited to have the chance to check out this very cool food service program. Before you begin you will need to find out if Hello Fresh delivery is available in your area.  The way it works is you go to the Hello Fresh website, create your account, and then check out the week's meal selections.  There are two package choices; a Classic Box and a Veggie Box.  Each package provides 3 meals for either 2 or 4 people, depending on your selection.  Currently the Classic box also allows for 2 alternative Meal Choices in case your family is not fond of something particular on the week's menu.  To make your meal choices, after logging into your account, you simply select "Meal Choice" under the "Your Options" tab and make your selections.  It was really very easy to choose the meals that seemed appealing to my family and the whole ordering process was ultra simple. Hello Fresh is a 'subscription' program, so if you do not want the week's meals, you will need to put your subscription on "hold" for that week.  You can cancel your subscription at any time.  There is no minimum to buy.
We were asked to review packages for 2 people.  I choose the Classic box and used the "Meal Choice" option.  Our choices were:
Sautéed Chicken with Ginger Parsnips and Carrots
Classic Beef Stew with Chickpeas and Green Beans
Yogurt Marinated Shrimp over Arugula Salad
Penne all' Arrabbiata with Pancetta
Warm Eggplant Layered Salad
We choose Sautéed Chicken with Ginger Parsnips and Carrots, Classic Beef Stew with Chickpeas and Green Beans, and Penne all' Arrabbiata with Pancetta.
Not only did my package arrive on the day that it was promised, but I was notified via email the day before that it was on its way.  I also received a courtesy call from the Hello Fresh customer support team just to check if I had any questions or concerns.  Talk about great customer service.  And check out how wonderfully packaged the meals are.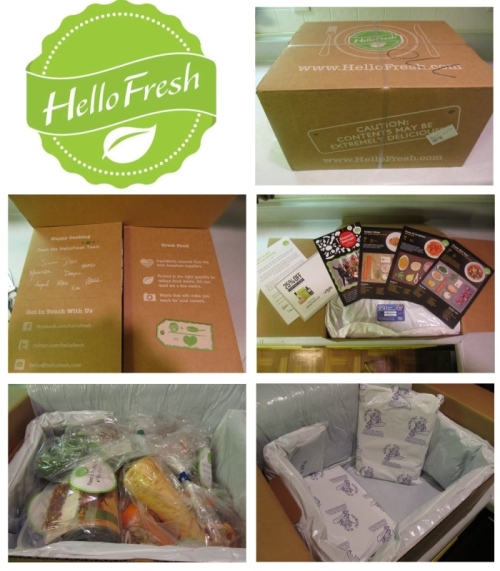 The first meal we made was the Classic Beef Stew with Chickpeas and Green Beans.  The ingredients were very fresh (just as the Hello Fresh promises) and there were minimal processed foods for this meal.  Even though the instructions were thorough, it seemed strange to me to cook the string beans, potatoes, and carrots together when later the instructions tell you to cook the onion in oil, then add the garlic and potatoes and cook a few minutes.  Then they instruct to add the beans and carrots.  This meant that after originally cooking the vegetables all in the same pot, the potatoes needed to be separated from the carrots and green beans for the above step. Not something I would normally do for sure but not a deal breaker.
The only time we eat chickpeas are when they are in minestrone soup, so this was something new for us.  Overall the recipe was simple to make and took very little time.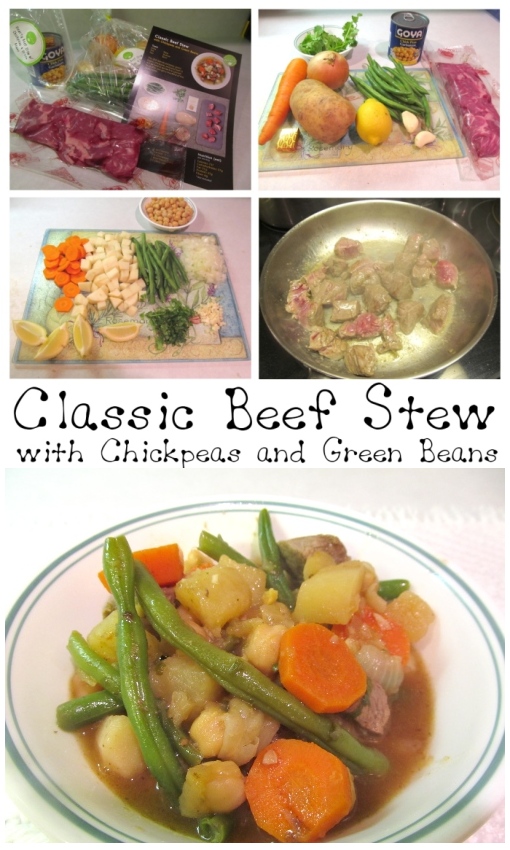 We then made the Penne all' Arrabbiata with Pancetta. The fresh basil was a bit wilted and soggy, but I don't know if it was because it was left in the fridge or came that way (I forgot to check when I put it in the fridge after unpacking) so we left it out of the dish.  We had never had pancetta so that was a new taste experience for us as well.  This was a pretty tasty dish and my son really liked it. This item did include canned diced tomatoes and we omitted the chili flakes as we do not like spicy food. (Heartburn issues.)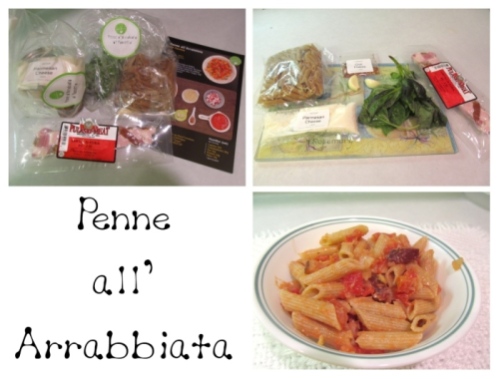 The last meal we made was the Sautéed Chicken with Ginger Parsnips and Carrots.  This was actually our favorite, though everyone agreed that it didn't need the slivered almonds.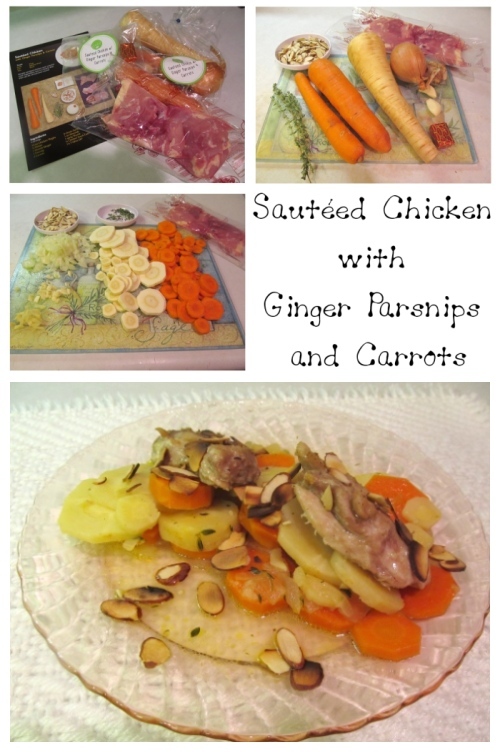 These meals are meant to feed two people but we easily fed three people with each meal.  Overall, the quality of the food was excellent and very fresh.  The meat was lean and had little fat.  The veggies were very crisp and, well, again, fresh.
I really appreciated the fact that all of Hello Fresh meals were clearly marked and packaged individually so the ingredients were all together.  There is no hunting down a particular item.  The only things we needed to have on hand, and most households do, were olive oil, salt, and pepper.  Each meal was easily prepared and on the table in about 30 minutes.  According to the Hello Fresh website all of the recipes are created by in-house chefs who have graduated from the Institute of Culinary Education and have worked in fine restaurants like Momofuku and Eleven Madison Park so you can be assured that they are going to be interesting and creative.
While these meals are not particularly the types of foods we are used to, someone who is adventurous in their cooking will love the selections.  And because the ingredients are fresh and nutritious, these meals help to create a healthy lifestyle with little effort.
The pricing for the meal packages are as follows and include shipping:
3 Classic Meal Box for Two – $69
3 Classic Meal Box for Four – $129
3 Vegetarian Meal Box for Two – $59
3 Vegetarian Meal Box for Four – $109
Hello Fresh would be a wonderful program for those with busy careers and schedules who have little time for meal planning or shopping.  It would also be great for retired folks who have difficulty getting to the market regularly.  Those wanting to try new foods and healthy recipes will appreciate the direction that Hello Fresh can help with. While at this particular time in our life Hello Fresh may not fit into our budget guidelines, I could see us using it in the future when it is just my husband and me.
If you are interested in Hello Fresh check out their website at http://www.hellofresh.com/.  You can also follow them on Facebook at http://www.facebook.com/HelloFreshus or on Twitter at http://twitter.com/HelloFresh.  The wonderful thing about this program is that you can cancel your subscription at any time, so if you are just curious about the program you can give it a try for a week or so and if you are not happy you can just shoot them an email and cancel.