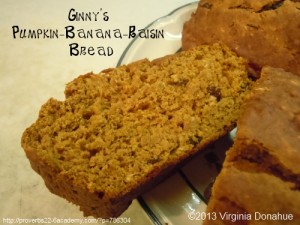 The other day I had three bananas that had turned too ripe for the eating.  There weren't enough to make a batch of our favorite banana bread, Ginny's Banana Bread, and I really had a hankering for something different.  I searched the web and still could not find something that fit my craving, so I just set out to experimenting.  The results were a raving success with my family and a new favorite was born:  Ginny's Pumpkin-Banana-Raisin Bread.  While I can't pinpoint what flavor exactly stands out the most, the pumpkin, the banana, or the raisins, I can say that the family ate it up in less than 24 hours.
Ginny's Pumpkin-Banana-Raisin Bread
¼ cup canola oil
2 egg
2 tsp vanilla
1 ½ cup flour (all-purpose white)
1 ½ cup wheat flour
1 ½ tsp baking powder
1 ½ tsp baking soda
½ tsp ginger
½ tsp nutmeg
1 ½ tsp cinnamon
½ tsp salt
1 cup sugar
⅓ cup brown sugar, packed
½ cup oatmeal
1 cup raisins
Preheat oven to 350 degrees.
With electric mixer, mash bananas.
Add canned pumpkin. Mix well.
Add oil, eggs, and vanilla and mix well.
In another bowl, mix flours, baking powder, baking soda, ginger, nutmeg, cinnamon, salt, sugars and oatmeal together.
Add dry mixture to wet mixture and blend to combine.
Stir in raisins.
Coat 2 loaf pans with cooking spray. Split evenly into two loaf pans.
Bake 30-45 minutes until toothpick comes out clean.
(Cooking times vary based on size and type of baking dish. I used glass loaf pans that was kind of shallow and wide and bread was done in 30 minutes. When I used metal pans, more narrow and deep, it took about 40 minutes.)
Servings: 16
Yield: 2 loaves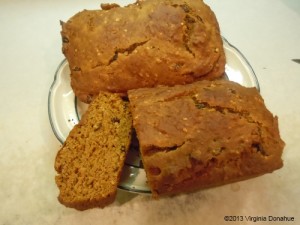 You may download the PDF of this recipe here.