While cruising the web the other day, came across a recipe that looked intriguing.  Using it as a base, I created this super simple and easy to make recipe that received my husband's stamp of approval.  This is saying a lot as he is not fond of most white sauce based recipes.  It turned out really delicious, if I say so myself. (The picture does not do it justice)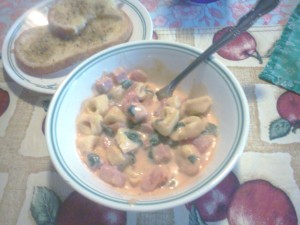 Ginny's Ham and Cheese Spinach Tomato Tortellini
8 ounces tortellini, 3 cheese
2 teaspoon each minced garlic
1 cup fresh spinach, chopped
14.5 ounces can diced tomatoes (with garlic, onion, & basil), undrained
8 ounces ham, cubed
2 tablespoons flour
1 ½ cup half-and-half
¼ cup Parmesan cheese, grated
Cook tortellini in boiling water per instructions.
While tortellini is cooking, sautee garlic for a few seconds to release flavor.
Add canned tomato with juice and spinach. Cook and stir over medium heat until bubbly.
Add ham cubes and heat through.
In separate bowl, whisk together flour and half and half.
 Add flour-half and half mixture to garlic, tomato, and spinach mixture.
Add parmesan cheese.
Stir and cook over medium heat until thickened.
Tortellini should be done now. Drain tortellini then stir into sauce and mix together.
Servings: 6
Click HERE for PDF version of this recipe.