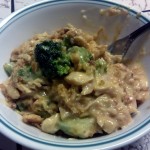 I often make this super easy to prepare casserole whenever we have leftover chicken. If you don't have leftover chicken you can substitute with 2 or 3 10 oz. cans of canned chicken.
3 cups cooked chicken, cubed
10 oz frozen broccoli cuts, thawed
1 can cream of chicken soup, condensed
1 can cream of celery soup, condensed
1 cup shredded cheddar cheese
2 packages Ritz type crackers, crushed
6 tablespoons butter melted
Combine chicken, broccoli, soups, and cheese in large bowl.
Pour chicken mixture into 9 by 13 casserole dish.
Melt butter in medium size bowl.
Crush crackers in package.
Combine crackers and butter.
Spread cracker mixture over the top of casserole.
Bake in a 400 degree oven for 45 minutes.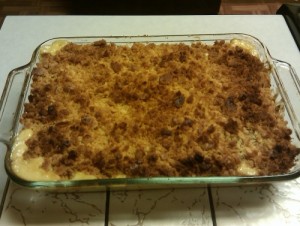 Download PDF of this recipe HERE.