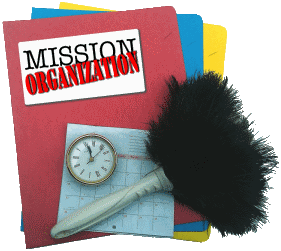 I love to organize. You would think because of my love for organization that my home and my life would be a neat-as-a-pin, well-oiled machine. Well, unfortunately, my well-oiled machine squeaks all the time. I am always working towards organizing or re-organizing something. This year is no different.
This year, every week or so, I plan to tackle a different area of my life and home that I feel needs more attention. I think a good first mission is to identify my organizational objective, kind of making a mission statement for organization.
I have determined that my main objective for organizing is simply so that I know where something is whenever I need it and can easily retrieve it. I also desire to be able to live without clutter and chaos stifling my life and spirit.
I have also selected a couple of Bible verses to serve as encouragement to stay the course. I printed them out on card stock, covered them with clear contact paper and posted them on my fridge.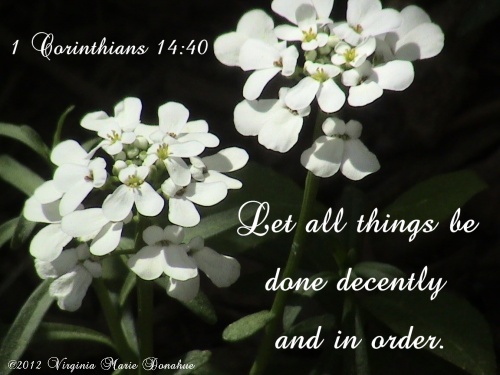 1 Corinthians 14:40
Let all things be done decently and in order.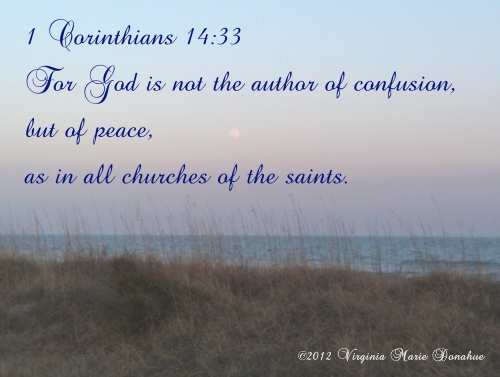 1 Corinthians 14:33
For God is not the author of confusion, but of peace, as in all churches of the saints.
(I put the images into a PDF that can be downloaded HERE if you would like them.)
I would certainly love it if others would like to come along with me and share what they have done. It would be so encouraging to see what others are doing and to perhaps gleam some great tips and ideas along the way. There is strength in numbers.