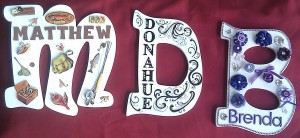 Every Christmas I like to give each one of my children something I made special for them. This year I was extremely busy with many work projects so as Christmas approached I found myself short on time but not short on ideas. While browsing our local Hobby Lobby I found white painted letter monograms on sale for 50% off. Then the wheels began to turn. I headed over to the scrapbooking section and perused the aisles of stickers looking for the perfect ones to fit each child's personality. If you have ever taken a trip down the sticker aisles in the scrapbooks section you will understand why that actually was the hardest part of this project; so many choices. After getting home all I had to do was to arrange the stickers on the wooden monograms to my liking and the project was done. I had to do a little modification on a few of them and used Gorilla glue on the ones that just wouldn't stay stuck, but the end products were well received.
I made this one for my oldest and his wife using jewel accented puffy letters and those delicate swirly stickers. I felt it came out with the bit of sophistication and elegance for the young couple.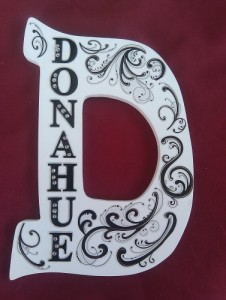 This is the one I made for my middle son. I simply loved the 3-D fishing themed stickers. They captured his love for the sport. The brown felt letters seem to match the theme perfectly.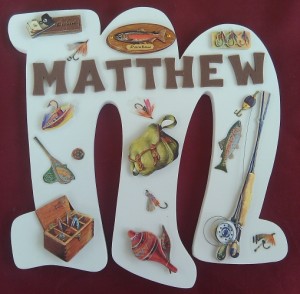 My daughter loved all the shades of purple in hers. I used border jewel strips to outline the letter, dimensional button and fabric flower stickers (those needed glue to stay on permanently), and I had the crystal flowers and made the little ribbon bows to add variety.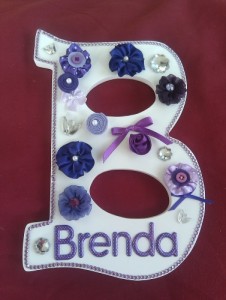 I can easily see making a series of matching pieces forming encouraging words like JOY or FAMILY gracing the walls of a hall or entry way.