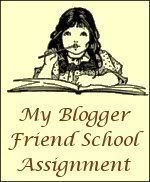 Memory Verse:
Romans 10:17
So then faith cometh by hearing and hearing by the word of God.
Intro:
America's Favorite Dessert J-E-L-L-O
What we read affects what we believe. When we feed the Scriptures in our spirit, faith comes alive and becomes a living force within you.
Assignment:
Write about your favorite 'faith food'. Tell about the books of the Bible that you read that help to build your faith. Nurture the seeds of faith inside you. ex: Acorns become Oak trees.
Narrowing it down to just a few books of the Bible that I turn to that help build my faith is a tough one. Every time I read a passage or a chapter I feel like I'm reading it for the first time and gleam something different every time. There are a couple of books I turn to when I'm looking for 'soul food' to feed my spirit. I absolutely love Proverbs. To me it is life's instruction manual. I think because I love poetry so much, that Psalms comforts and uplifts me. Ephesians equips me for the battles in this world. Job encourages me not to be discouraged, no matter what. Isaiah and the Gospels remind me of God's unselfish gift of salvation. I think that we can each find something in any book of the Bible to keep our faith strong and growing as we fill our hearts, souls and minds with it and savor every morsel.