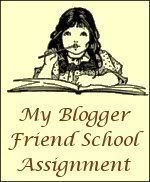 Memory Verse:
Psalms 26:2 NIV
Test me, O LORD, and try me, examine my heart and my mind.
This week we are to do something for someone else then we are to post about how doing it made us feel.
I find there is no greater joy than to just do something nice for someone. It doesn't have to be elaborate, simply holding the door or passing a smile can change someone's day. Sometimes things do take me out of my comfort zone. When a stranger is clearly in need, there is little hesitation, but there are other situations when I wonder should I or shouldn't I? The familiar question, "What would Jesus do?" helps to set the mind at ease and tends to be a deciding factor. As I grow in my walk with Him I understand that we are all called to be servants of one another, building each other up, praying for and loving on one another as He does for us. Just knowing that, my heart delights in being part of simple acts of compassion and kindness.
2 Timothy 2:24–And the servant of the Lord must not strive; but be gentle unto all men, apt to teach, patient,
Colossians 3:12–Put on therefore, as the elect of God, holy and beloved, bowels of mercies, kindness, humbleness of mind, meekness, longsuffering;