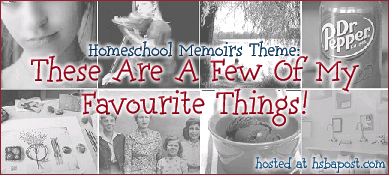 This week we are doing something fun. We are to share some of our favorite sites from selected categories:

· Magazines/Carnivals – in print or online- The Old Schoolhouse
· Freebie sites – any sites that offer freebies or often have giveaways- Donna Young.org
· Homeschool news/informative- HSLDA· Forums/book clubs-
· Networking, Blog "About" (sites that offer tech-support or tutorials for computer/internet) & Quick Links-Dynamic Drive
· Mom site – a sites just for moms- Marmee Dear
· Inspirational/encouraging/motivational – Homeschoolblogger Just pick any blogger and you are bound to find down to earth inspiration, encouragement and motivation,
· Youth/kid – sites geared towards youth/kids or owned by them-Disney (My kids chose this one)
· Memes-Home School Memoirs and Blogger Friend School
· Organizing/crafts – sites that you look to for organizing tips or crafts- There are so many, but one of my favorites for the kids is Making Friends
· Homemaking/Homesteading- A Christian Home
· Bible-focused – sites mainly about God's Word- Focus on the Family
· Homeschool Method – sites that offer a lot of info on a certain method- Simply Charlotte Mason
· Family blog – sites that give you a glimpse into another family's life, run by a family- So many out there, but I think the following blogs really show what thier lives are about:
Hilltop Academy, My 4 Sweetums, Teacups in the Garden, Song of the Sagebrush, and Reviews By Heidi.
· Businesses, particularly homebased- Homeschool Boutique
Now you know my favorites list could go on and on, but I honestly can say that my all time favorite site really is HomeschoolBlogger. Where else could I have met so many wonderful people on line and God has used HSB to open so many doors in my life.