First some news:
I received an e-mail this morning from Missy at No Greater Love. I was one of the winners of her Ice Cream Contest. I was so surprised and excited. If you would like to see the great prizes she is giving away check out her blog. She will also be having another contest soon so be sure to visit her often.
Also I just joined another group of homeschooling folk at The Homeschool Lounge. It looks interesting so here's another web stop you may want to check out.
Now a few reminders:
Today begins the Great Backyard Bird Count. So take a few minutes to count the birds and report your findings.
And now onto the Award:
Mom of Ned at a Place Called Home has honored me with this award: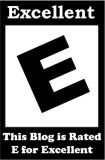 I appreciate her thinking my space here in cyberworld is worthy of being called 'Excellent'.
The rules that accompany this award are that "By accepting this Excellent Blog Award, you have to award it to 10 more people whose blogs you find Excellent Award worthy. You can give it to as many people as you want but please award at least 10. Thank you out there for having such great blogs and being such great friends! You deserve this! Feel free to award people who have already been awarded…
If you are on my friends list you are all deserving of this award. I read so many wonderful blogs that it seems hard to name only 10. Some of these have already received this award, but should be mentioned again. Along with reciprocating to A Place Called Home I would like to pass this award onto (in no particular order):
Hilltop Academy
Song of the Sagebrush
By God's Grace
4sweetums
Reviews By Heidi
School in 'R Home
Teacups in the Garden
Welcome to Our Hive
Kuriosity By K
Eclectic Education
And I have to pass it on to my kids' blogs.
The World According to Matthew
Brenda's Journal