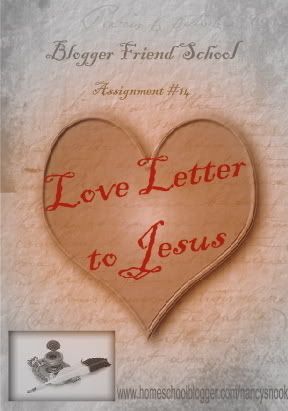 Dear Jesus,
You know my very heart,
You've known every inch of me
Right from the start.
And even though You know me well,
You love me just the same,
You've taken my total being,
And made me new again.
You hold my hand as I walk along,
The path of every day,
Giving me direction,
And purpose along the way.
And when the hour seems darkest,
Upon Your shoulders I rest,
For safe in the comfort of Your arms,
I'm at the very best.
I love You beyond,
What mere words can say,
But You loved me first,
And took my sins away.
How can I ever thank You,
For all you've given me?
You've taken a battered spirit,
And set it soaring free.
And when the world is spinning,
And seems so full of hate,
I reach for You, You pull me close
Your open arms await.
It so amazes me,
All that You have done,
You had chosen me for Your very own
When time had begun.
So glad I am You know my heart,
For nothing I could do,
Could ever express how deep I feel,
My unending love for You.
Forever Yours,
Ginny
©2008 Virginia Donahue