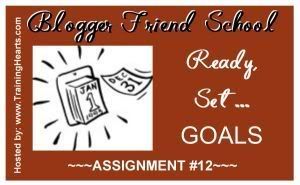 Write out some goals that you would like to accomplish. These goals should include your personal goals, but also goals as a family. While setting goals, try to write out small attainable rewards for each goal accomplished!
I am always setting goals in my life. Some are easily attainable and others I have yet to see come to light. There is a saying by Les Brown that comes to my mind that says, "Shoot for the moon. Even if you miss you land among the stars." I sometimes set my goals for the moon and quite often land among the stars, which isn't such a bad place to be. I don't often set long range goals because the list would go on for days so here are a few of my short term goals that I am continually working on.
1. To continue to seek God's plan and purpose in my life and to carry it out in the way He would have me do so. This will help define my life.
2. I would like to organize my time better. The household manager that I've been working on and using has been a great help in that department and I have seen the fruits of it, but I still need a lot of work.
3. To have more time to be alone with my husband. His work schedule is rough and the only time we have together is right before we go to sleep at night. This would strengthen our relationship.
4. To be more disciplined in seeing that my kids complete their assigned household duties. We struggle with them doing it right unless they are 'sat' on to do them. This would stop most of the nagging and complaining that goes on around here.
5. As a family, I would like us to spend more time doing things outside of school; more outings and vacation time. This would allow us to grow closer as a family.
There seems to be a running theme in these goals: TIME. I think that my main goal this year should be to 'make' time for the things I find important and not to worry about the small stuff.
Ecclesiastes 8:5-7–Whoso keepeth the commandment shall feel no evil thing: and a wise man's heart discerneth both time and judgment. Because to every purpose there is time and judgment, therefore the misery of man is great upon him. For he knoweth not that which shall be: for who can tell him when it shall be?