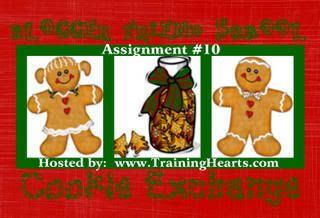 Part A: Please share your Favorite Christmas/Holiday Cookie Recipe(s)
Part B: Share a memory, story or tradition about baking any Christmas/Holiday goodies.
Part C: Share a verse that is upon your heart this week.
This assignment made me giggle because I had been thinking about sponsoring a virtual cookie exchange on my blog, but Tamara beat me to it. Great idea.
There are so many great cookie recipes in my collection that it is hard to chose. I may not like to cook but I love to bake and cookies are among my favorites to make.
We make this flexible recipe whenever I go to make cookies and find that all I have are half bags of various varieties of chocolate chips. Some how they mysteriously vanish. (I think I have 5ft. and 6ft 'mice')
M&M Chip Surprise Cookies
1 cup granulated sugar
1 cup brown sugar, packed
2/3 cup butter/margarine, softened (I usually melt it in the microwave)
2/3 cup shortening
2 eggs
2 teaspoons vanilla
3 cups flour
1 teaspoon baking soda
1 teaspoon salt
½ cup chocolate chips
½ cup white chocolate chips
½ cup peanutbutter chips
½ cup butterscotch chips
(You can use whatever you have on hand to make 2 cups chips)
½ cup M&Ms
(sometimes we add ½ cup small pieces of nuts, usually walnuts, but sometimes peanuts or pecans)
Preheat oven to 375°. In large bowl, mix sugars, butter, shortening, egg and vanilla together. Stir in remaining ingredients one at a time. Drop by rounded teaspoons about 2" apart onto cookie sheets. Bake until light brown, about 10-12 minutes.
Makes about 6 dozen
***TIP: I usually bake two sheets at a time, so I bake them about ½ the time, then I switch them in the oven, putting the top sheet on the bottom rack and the bottom sheet on the top. Then bake until done. The cookies seem to come out more even this way, though I sometimes have to bake them a bit longer than the recipe calls for.***
The second recipe I want to share may be of some interest to Kellie Anne. Maybe her wreath's fate could have a sweeter ending.
Peppermint Cookies
1 cup shortening
½ cup granulated sugar
½ cup brown sugar, packed
2 eggs
1 ½ teaspoons vanilla
2 ¾ cups flour
1-teaspoon salt
½ teaspoon baking soda
½ cup crushed peppermint candy
Preheat the oven to 375°. In mixing bowl, cream shortening and sugars. Add the eggs, one at a time, beating well after adding each one. Beat in vanilla. In another bowl, combine dry ingredients then slowly add to creamed mixture until blended. Stir in crushed candies. Shape into a 15" roll and wrap in plastic wrap. Refrigerate about 4 hours or until firm. Unwrap and cut into 1/8 slices. Place on cookie sheets about 2" apart. Bake for 6-8 minutes or until the edges begin to turn brown. Cool on wire racks.
Makes about 6-dozen.
My children and I bake year round, but at Christmas we usually do a lot more. We pour over cookbooks and recipes choosing what treats will make each year. We have done cookies, breads, and candies in the past. We have even just gathered the ingredients and made little 'baking kits'. It is always a lot of fun and they are already asking what we'll be doing this year. (I have no clue. LOL)
A Scripture passage that I have been reflecting on the past few days is from 2 Timothy 4:18
And the Lord shall deliver me from every evil work, and will preserve me unto his heavenly kingdom: to whom be glory for ever and ever. Amen.