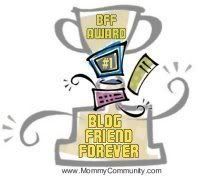 My blogger friend
Laurie at Teacups in My Garden
 has honored me with The Blogger Friend Forever Award.  I so appreciate this kind recognition of the friendship that we have established through our blogs.  I would like to pass this on.
Drum roll please….
I pass this on to Kellianne at Hilltop Academy who gives me a never-ending supply of warmth and encouragement through her comments and her blog.
Next, for sharing all her life experiences, poetic talent and simply awesome hospitality I'd like to show my appreciation to Ann Marie at Song of the Sagebrush.
I'd also like to recognize my new friend Heidi at Reviews by Heidi  for all her kind words and positive input.  I respect her opinions and she lifts my spirits with her visits and her blog.
Finally, I want to give due recognition to Stacy at By God's Grace.  She has been such a blessing in my blogging life with her sweet comments and honest postings on her blog.
Some of the bloggers who I would have loved to give this award to have already been blessed by other friends.  I want to add my acknowledgment of how valuable their friendships are to me.  This community of homeschool families has been such a source of encouragement, motivation, and support.