As a child my family's menu consisted of two choices: take it or leave it. – Buddy Hackett
With this crazy weather I thought I'd share a warm-the-bones recipe.
1 pound stew beef
@ 5 potatoes
@ 8 carrots@ 3 stalks celery
1 onion
1 can (14.5 oz) diced tomatoes
2 cans (14.5 oz.) beef broth
½ cup quick Tapioca
spice to taste-bay leaf, clove, salt and pepper
(I also often add any leftover vegetables like peas, corn, and/or green beans that I might have in the fridge.)
Brown stew beef in about 2 tablespoons of oil (I use a olive/canola oil mix).
Cut up vegetables into bite size pieces and then place all ingredients into crock-pot.
Cook on high 4-6 hours or low @ 12 hours stirring occasionally until meat is tender and vegetables are cook.
Makes @ 8 hearty servings.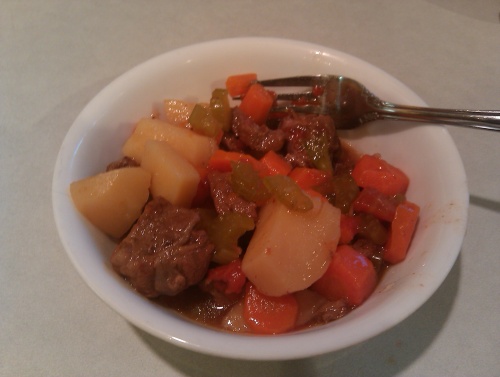 Download recipe PDF HERE.