The Ultimate Homeschool Planner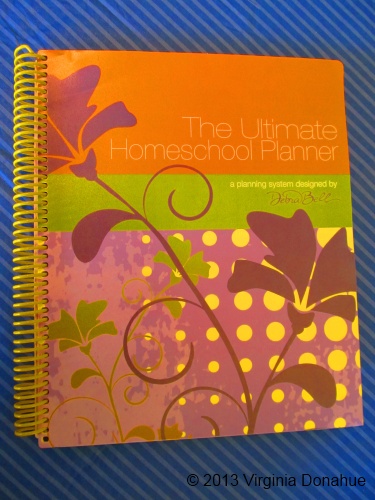 Anyone who knows me knows that I appreciate a good planner, so I was very pleased to have the opportunity to review The Ultimate Homeschool Planner and The Ultimate Weekly Planner for Teens.
After using The Ultimate Homeschool Planner for a while, I quickly realized the versatility of this planner and found it not only good for homeschooling but could be easily adapted for all moms in general.
Let me give you a tour of The Ultimate Homeschool Planner.  From the get-go, you can see that the creator, Debra Bell, put a lot of thought into its creation.  You will appreciate that the sturdy spiral-bound book is enclosed by vinyl, pocketed covers.  No worries about putting your planner down in that unnoticed sticky spot on your counter. A quick wipe of the cover with a damp sponge and it is good as new.  And the pockets on the inside of both the front and back covers are the perfect spots to keep track of those important homeschool association letters or other papers you want to keep at the ready.  I can easily see non-homeschooling moms slipping their permission slips or school notes in there.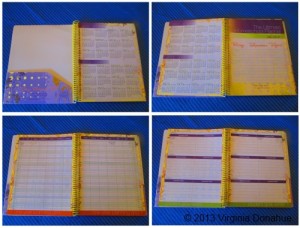 The first pages give you four traditional school years of calendars at a glance printed on heavier card stock to withstand wear and tear.  Moving onto the first section of the planner there is a page for all your specific homeschool information like your school name and information and your student roster.  This page could just as easily be used for general family information.  Then there are about nine pages of illustrated instruction sharing the nuts and bolts of how to use the Ultimate Homeschool planning system.
After the instructional section you reach the meat of the planner.  You begin with a One-Year Planning Grid for those of you who are clever enough to know what you will be doing for the coming year.  I think this section could also easily serve as an attendance record as well or to detail annual events like birthdays. On the next 2-page spread section you can record character and academic goals for up to six people (you may want to include some goals for yourself there if you have room).  Turn the page and you find a place to put your Family Priorities.  Any family could benefit from documenting those things.  On the next three pages you can keep track of the resources you use for each one of your children.  For non-homeschooling families you could keep track of what schoolbooks your students are using or just some of your favorite resources like cookbooks or whatever.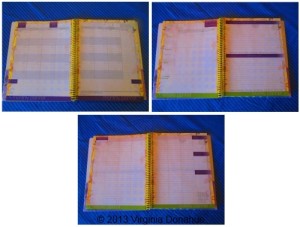 As you move on you will find yourself in the Monthly Planner section.  There are twelve, undated, 2-page spread per month calendar grids. There is ample space to record activities, events, and appointments for each month.  I appreciate the fact that they are undated because not all of us start our school years in the same month.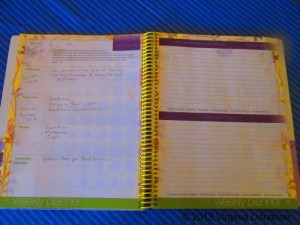 I especially liked the next section of the planner; the Weekly Planner.  There is more to this section than just a place to keep track of your student assignments.  Again, the versatility of the undated pages is appealing to me.  The first 2-page spread of each of the forty-eight Weekly Planner sections is made up of a page called the Lord's Day and a page for you to record "This Week's Memorable Moments" and Achievements with a section to reflect upon the "Evidence of Grace" in your life.  How wonderful to be able to reflect upon the previous week and jot down your thoughts to look back over in the future.  The Lord's Day page may just be my favorite.  At the top of the page Debra has shared an inspiring quote (as she has done throughout the entire planner) to empower you with encouragement.  Then there are sections for a Bible Plan, Battle Plan, Prayers, and Hospitality/Outreach.  Again, how wonderful is that to put your spiritual game plan front and center of your week and is beneficial to any family.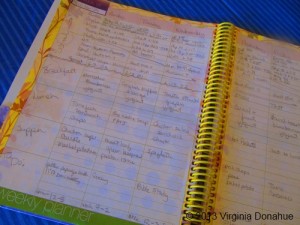 Although the next 2-page spread of the weekly planner is intended for recording your school assignments, I decided to use the weekly pages of the planner a little bit differently than intended. Because I am currently down to homeschooling my last student, I felt I could make use of all the available space.
The 2-page spread of the weekly planning pages is in an unlabeled grid format, six blocks by six blocks with five lines in each planning block to record information.  What I did was I wrote the days of the week across the top starting with Monday.  In the blocks going down I set the first 2 aside for my daughter's school assignments and other activities.  The next 3 blocks I used for menu planning for the week and in the last box I put in the things I had going on that week.  Now I had a game plan with all of our activities, assignments, and menu plan all in one place.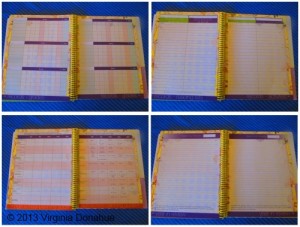 Because Debra has tried to cover all the bases, the last sections of The Ultimate Homeschool Planner have places to keep track of your students' scores, reading lists, field trips and activities, and helpful articles. And finally, as you reach the end of the planner you will find a High School Planning Guide and a place to record your Year-End Review notes where you can reflect on your students' progress.
Whew! As you can see there is a lot of useful planner between the covers of The Ultimate Homeschool Planner.   What I liked best was that throughout you are reminded to focus on God's plans for your family.  One thing I would add to the planner would be section tabs to more easily navigate through it.  Because of its uncomplicated nature it is easy to develop your own system or simply follow the time-tested method outlined at the beginning of the book.  Whether you have one child or six children, homeschooling or not, the simplicity and versatility of this planner will appeal to your planning creative nature.
Want to check out some sample pages for yourself to see what I am talking about? Debra Bell has provided a nice sampling for you to enjoy HERE.
Be sure to visit Debra's website, too, to learn more.
Interested in getting one of these for yourself for $28? Check them out the Apologia Store.
The Ultimate Weekly Planner for Teens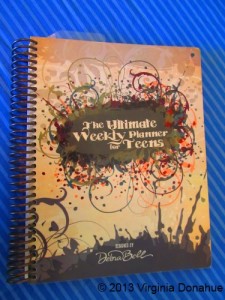 I enlisted the help of my daughter to test drive the Teen Planner and she made good use of it.  In The Ultimate Homeschool Planner instructional section it encourages you to take time to train your child to take responsibility for their managing their time through the use of The Ultimate Daily Planner for Students and/or The Ultimate Weekly Planner for Teens.  The creator, Debra Bell, encourages you to take about 20 minutes at the beginning of each week to sit down with your teen to discuss and agree on the week's assignments and tasks to be completed during the week and to add that information to their weekly planner.  Then at the end of the week (or as often as you feel is necessary) you get together again to go over what was accomplished.  Because my daughter has been using planners for a while to keep track of her time and activities, we did not need much 'training' time, but if your younger student has not had previous experience with planning their time I highly recommend taking baby steps using The Ultimate Daily Planner for Students specially designed to help develop those skills before using The Ultimate Weekly Planner for Teens.
When you first pick up The Ultimate Weekly Planner for Teens, you will notice its smaller size in comparison to The Ultimate Homeschool Planner.  My daughter especially appreciated this because she is not fond of big and bulky things.  It , too, has a vinyl cover for durability.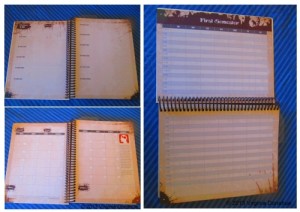 On the first page of the planner your teen can record their personal information and their class information broken down into two semesters.  The next few pages are fun pages called "All About Me" to fill in with all of their favorites and things they want to do.  After this is a section for planning out a weekly time schedule for the first and second semesters.  Also similar to The Ultimate Homeschool Planner, the next section are two-page spreads of undated monthly calendars.  Each calendar includes an encouraging passage of Scripture and a neat tidbit of information about the brain and learning called "Mindworks".
After the calendars are the two-page spread weekly planning pages.  Each set of pages has ample room to keep track of assignments, activities, and anything else your teen may need to remember during the week.  There is a place at the top of each column to record the time spent on task for that day.  Each box of the planning grid includes two circles divided into four to visually keep track of the hours spend on the task.  It is evident that Debra clearly put thought into creating these pages because she included space for doodling, notes and appointments as well as a way to keep track of devotional time.  Included for each week is an SAT word to study and more encouraging quotes adorn the pages.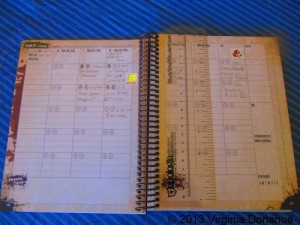 While these planning pages are intended for your student to keep track of their school assignments, my daughter chose to use them differently to suit her needs (like mother, like daughter?).  Because we use a different method to keep track of our school assignments which works well for us, I think she made very good use of the book by filling in the various blocks for the week with the assortment of activities she has going on in her life.  She recorded her schedule for ball practice and games, Bible study class, plans she made with friends and family, and even used it to keep track of the places she wanted to call while looking for employment. She also made note of ongoing assignments that she needed to focus on that week in the space provided.   She used the time tracking circles to indicate when she completed the appointment.  The planner included a neat ruler/place marker that easily slips into the spirals of the binding making it super simple to find the week in which she was working.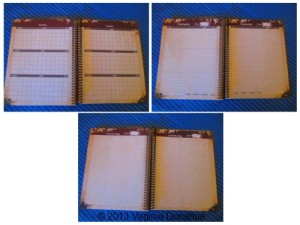 After the weekly planning section there are pages for your teen to keep track of their grades, reading list, and activities.  Next are forms to record information for things like the Presidential Active Lifestyle Award and high school credits earned.  The next section is a very useful reference section with helps for writing and grammar, math, science, geography and history.  And if that isn't enough, at the end of the planner you will find a college admissions and scholarship advice. And if that still isn't enough, at the back of the book you will find a pocketed 4-year calendar at a glance and two pages of cute little event stickers for your teen to use while planning.  Like The Ultimate Homeschool Planner, The Ultimate Weekly Planner for Teens  provides your teen with the cornerstone tool of taking control of their time management skills.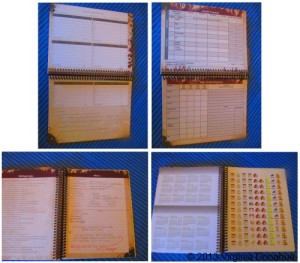 Check out some sample pages for The Ultimate Daily Planner for Students and Ultimate Weekly Planner for Teens HERE.
You can purchase your own The Ultimate Daily Planner for Students and Ultimate Weekly Planner for Teens for $19 each at the Apologia Store HERE.
Still not sure if this system is the one for you?  Learn more by reading other informative reviews from the members of the Mosaic Reviews team HERE.