Learning a second language often seems difficult.  I started teaching my children Spanish when they were in elementary school.  We had used various programs specifically aimed at the younger set.  Some of it stuck but for the most part when my children hit high school age they had maintained a fragmented knowledge of the Spanish language. We pressed on through high school but they found the process of learning Spanish boring and, perhaps because I think all my children are slightly tone deaf (phonics did not work for us either), they just did not want to put the effort into the memorization needed to actually speak the language.  Because of my past experience with various Spanish curricula both at home and when I was teaching, I was quite interested in learning more about the Spanish for You! curriculum.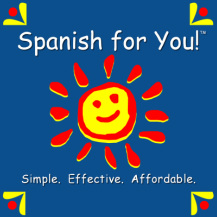 The creator of Spanish for You!, Debbie Annett, developed this curriculum because she wanted elementary and middle school students to not only have the skills to read, speak, and write Spanish, but also have the grammar knowledge necessary for the easy flow into the high school level of Spanish.  Spanish for You! can be used by the classroom teacher or can be used by motivated students on their own.  This curriculum can be used with students of different learning levels at the same time which is great for multi-level classrooms like most of our homeschools are.  Using themes to present material, similar to how unit studies work, you can select the theme that interests your student.  You do not have to work through the various books in any particular order, because while the material 'spirals' within each book, it does not between book and new material is introduced in each book.
I had the opportunity to review the Spanish for You! Fiestas Grades 3-8 Package.   All packages include the Spanish for You! softcover book or soon to be available downloadable e-book for the theme you selected (which is what I received), downloads of the PDF lesson guides for the grade level(s) you ordered that can be used for lesson planning, PDF self-checking worksheets for all the lessons, 2 sets of audio MP3 files, and the flashcards/activity pictures pages PDFs.  I very much appreciate that the PDF pages are black and white to save the cost of printing.  There are also Teacher Lesson Plans available for class use (like a co-op or other classroom) that can be purchased separately.
Each book has 5 topical lessons (I would define the lessons more as mini-units) relating to the specific theme meant to be used over the course of 24-30 weeks allowing plenty of time for breaks and those unplanned pauses in your studies.  The themes in the Fiestas book include the birthday party, the Day of the Dead, Carnival, the Holy Week, and April Fair.  The guide is made to be followed in order.  Each lesson unit is set up to be done over 4 days but can easily be adjusted if you feel you need more or less time.  Lesson units are set up similarly throughout the books with content broken down into smaller sections and taught by incorporating all types of learning styles. (Hearing, seeing, doing).
No need to have previous knowledge of the language because audios of the entire book are provided as part of your purchase.  What is really neat about the audios is that not only are there audios of a native a speaker, but you also receive audios made by the author, a non-native speaker, providing slower pronunciation of the words.
The first section of the book covers the basics like the alphabet, basic pronunciation, common words and phrases, commands, colors and numbers along with instructions and suggestions for making and using the flashcards.   Also included are game and activity instructions.  Reading material explaining the Fiestas presented in the book provides cultural information.
When you begin the week's lesson, the student is first introduced to the theme vocabulary.  The vocabulary is presented with child-drawn pictures created by the author's daughter that helps imprint the vocabulary to memory through the use of imagery.  Because this curriculum is geared towards elementary and middle school students, I think that they might appreciate that the images were created by someone just like them and will encourage them to create their own illustrations without trying to compare their artwork to a professional.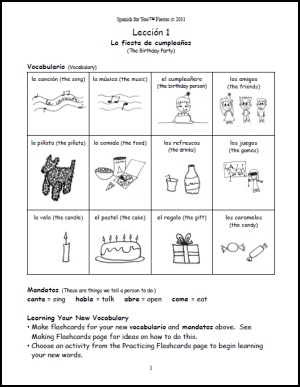 The student is then encouraged to learn the vocabulary through the use of flashcards and activities.  Some folks aren't very fond of flashcards.  We, on the other hand, have always used them throughout our homeschooling years.  I am a huge proponent of student-made flashcards and they have been very useful in our homeschool.  There are lots of activities, games, and suggestions provided using the flashcards to make good use of them and to make the learning fun. (We colored ours in to make them pretty.)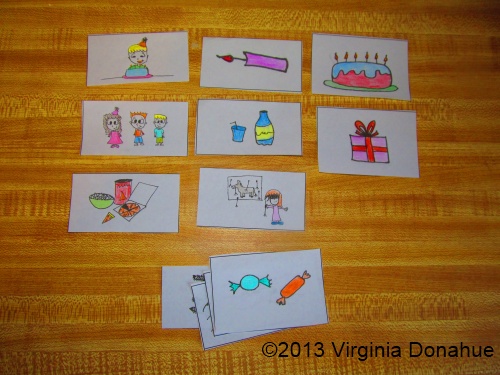 In Using Your New Vocabulary, the student learns to use the vocabulary in conjunction with the commands in the vocabulary list by listening to imperative sentences, acting them out, or illustrating them.  Then there are additional interactive activities to continue mastering the vocabulary along with doing the corresponding worksheets.
The self-checking worksheet packets provide students with reading and writing practice. A nice feature of them coming in PDF format is that you only need to print the sheets that you want to use.  When students are checking their own work they are looking for their errors and correcting them thus reinforcing the correct answers in their minds.  (This is similar to my reasoning for a student to self-check their copywork.)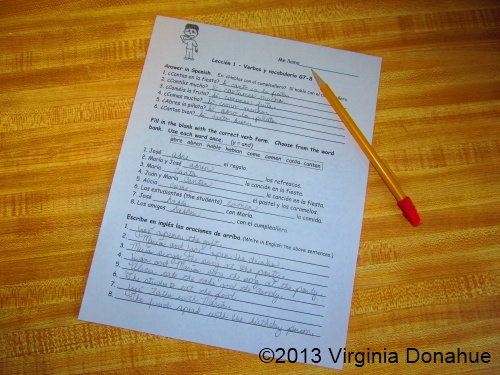 Next verbs and verb conjugation are presented.  Because I had learned Castilian Spanish when I was in school, I appreciated that the author included the 2nd person informal form of the verbs in her conjugation.  Not all the curriculum that we have used in the past includes this.  Again the verbs are learned through interactive activities that reinforce their correct usage.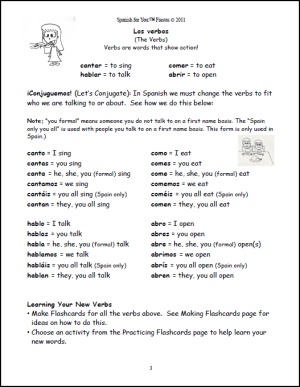 After the verbs are learned the student moves onto the section of grammar usage and practice.  In the Fiestas unit, demonstrative adjectives, possessive adjectives, describing with adjectives, personal pronouns, and comparing things are covered forming a foundation in correct usage of these things.   I think that presenting the Spanish grammar in this relaxed manner might help iron in the concepts less painfully.  The last section of the lesson unit puts it all together with additional activities.
During the study of the birthday party, the student is also encouraged to learn the birthday songs, through listening to the audio and adding to the fun of learning Spanish.  While I find learning through song lots of fun, again for my kids, this is just not their thing.
I consider the lesson guides to be an invaluable asset.  While I am used to creating my own lesson plans, over the years and as my work schedule demands more of my time, I have been so grateful for curricula that lays it all out for me so that I can either follow it as is or adjust it to meet our particular style.  This is a huge timesaver in my opinion.  I did not print out the guide but used it from my computer.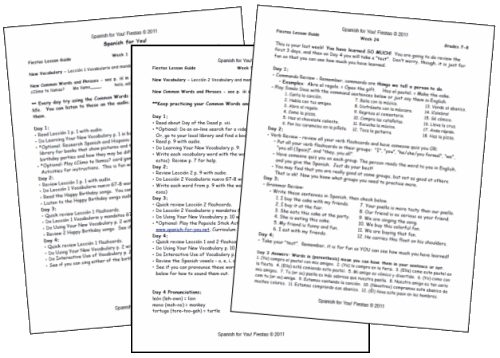 Overall, I think that Spanish for You!  will appeal to those who like unit studies and also to those who adhere to the Charlotte Mason recommendation of short lessons.  I think that the worksheets give just enough writing, reading, and translation practice for the younger student as to not be too overwhelmed with 'busy-work'.  However, because Spanish for You! is clearly designed for elementary and middle school, I do not think it could be used alone for high school credit if you were considering using it for your advanced studies middle school student.  Again, though, this was not the author's intentions so not necessarily a negative.
You can check out some free mini-lessons at the Spanish for You! website HERE.
You will also find loads of worksheets for free HERE.  And when you visit the Spanish for You! blog HERE you will find more activities and information.
Spanish for You! is currently available in two themes; Fiestas (Celebrations) and Estaciones (Seasons) with more themes in the works.  You can purchase the complete Grades 3-8 Package($64.95), or the individual grade levels (Grades 3-4 package- $39.95; Grades 5-6 package-$39.95; Grades 7-8 package-$39.95; Extra Books -$12.95 each) There are also a couple of trial packages available- Viajes 4 Week Trial Grades 5-8 ($9.99) and Viajes 6 Week Trial Grades 3-4 ($12.99).  You can purchase your set HERE.
¡Gracias por su visita! Por favor, vuelva.
Read more Spanish for You! reviews by the Mosaic Reviews team HERE.