Have you ever been to a gathering where one of your colorful family members starts sharing stories from the past and wished you had a way to record them for future generations?  If you have a Smartphone, iPad, or even a computer, it just got a little easier to capture and share those memories using the Saving Memories Forever app.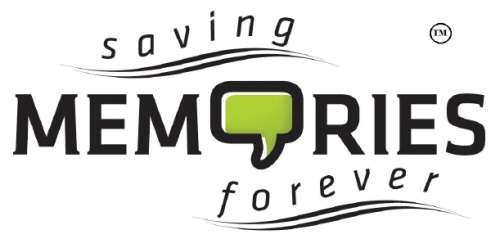 After Harvey and Jane Baker, the founders and developers of the Saving Memories Forever app, had completed their family tree, they discovered that an important part of their family history was missing; the stories to connect the names on their tree with the family history.  So they set to work to fill those holes and created a way for us all to fill in the missing pieces of our family story.
Available for free or a premium subscription ($3.99/month or $40/year- I was given the Premium version to review and tested on my iPad), the Saving Memories Forever app is a really neat tool for recording your family stories for posterity.
And it is so simple to use!
After downloading the app from the iStore or Google Play to your smart device, you need to register your app, which you can do straight from your device or on the Saving Memories Forever website.  Once you have registered you are ready to begin using the app.
Open the app on your device and click Get Started.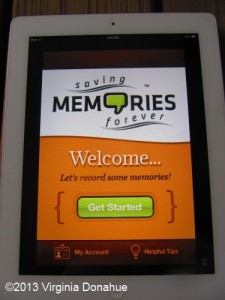 If you haven't already set up a Storyteller, select Add Storyteller and fill in the information.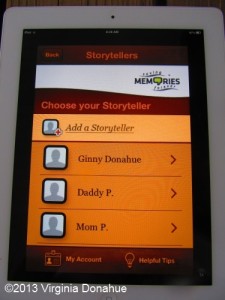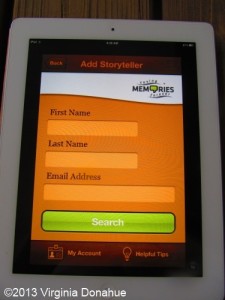 After you have storytellers set up, the rest is fun and easy peasy.
Select a Storyteller.  If you haven't already uploaded an image for the Storyteller you may be asked if you want to.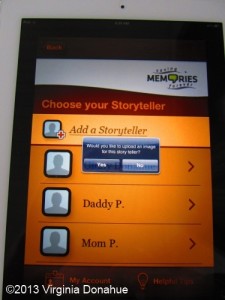 You will then be taken to a category page with various age groups: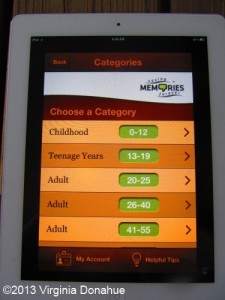 After selecting a category you will have some question prompts that you can use or you can just select the Other question for something not on the list.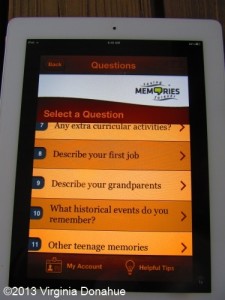 When you choose a question you are taken to the recorder: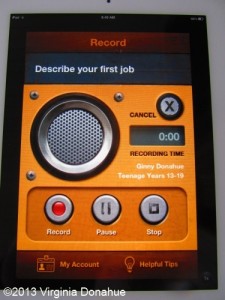 As you can see from the picture it is pretty straight forward.  When you are ready, just click the record button and away you go.  Saving Memories Forever suggests that you try to keep your recording to 5 minutes of less.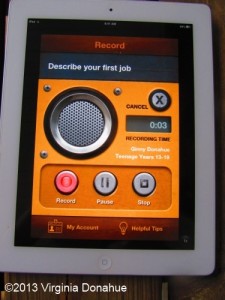 When you are finished recording, just hit the stop button. Then you can playback, re-record, or upload your story.  I can say I was impressed with the quality of the audio.  It was very clear and did not sound at all like a tape recorder does. (Does anyone remember cassette recorders?)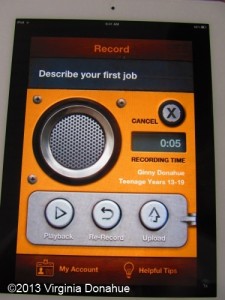 When you are satisfied with your recording you then upload your story to the Saving Memories Forever website with one click.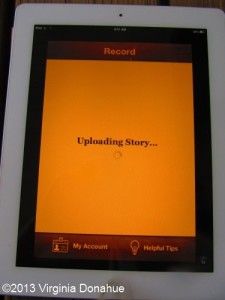 Then you can share your story on Facebook if you want or go back to the home screen.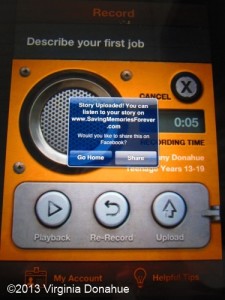 When you want to listen or share your recorded stories you log into your account on your computer or device. You will start off logged in as a listener: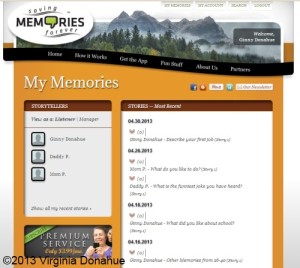 From here you can listen to any of your stories by either choosing a Storyteller which will bring up a list of stories recorded by that person or just select something from the list.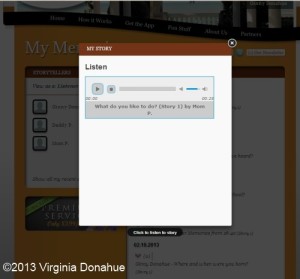 Or you can select Manager (if you are a manager of the account) and you can do a variety of things to your uploaded stories, like add tags to make searching easier: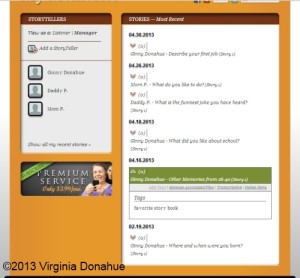 Or upload attachments to your stories like images or documents of things like pictures, scanned birth certificates, marriage licenses, handwritten notes, or just about anything.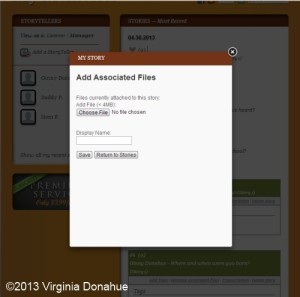 The best part of having your recorded stories on line is that someone doesn't have to have a smart device for you to be able to share your stories with them.  In the manager mode, simply select your storyteller, then choose Share These Stories and you can email the stories to anyone you want.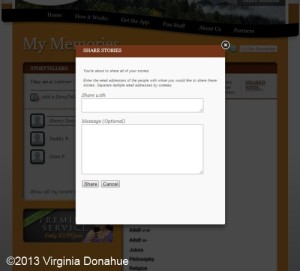 And then there is the added bonus that you can download all your stories in MP3 format, save them to a disk and then you can share the whole kit and caboodle with those folks you want to share with who are not into computers but have an MP3 compatible CD player.
As you can see, this app is not only simple to use but its uses are open to your imagination.  And I have only scratched the surface of its functionality.  Check out the Saving Memories Forever website for more information on the whole enchilada.
In addition to saving family memories, jokes, and whatnot, I have begun to record my children's favorite story books from their childhood in the hopes that they will share with their children or grandchildren someday.  I can see the potential for a great long term homeschool project for the student to easily do a family genealogy study or an awesome way to orally record a child's day-to-day growing up. How cute would it be to have an audio record of your child speaking through the years!
The only drawback for me personally that would have me thinking about purchasing the Premium account would be the monthly/yearly cost.  I am not sure I would invest $40 a year to keep it going because I am not sure how much I would use it to justify the cost for my family.  But someone who has a propensity for family history (and I have a few of those in my extended family) this is a great value.  For others, after looking over the Free vs Fee page HERE, you may be satisfied with the limited features of the free version.
If you are ready to start Saving Memories Forever, find it on your smart device by using the search feature, download, register, and start Saving Memories Forever!
What are the other Mosaic Reviews team members saying about Saving Memories Forever?  Check it out HERE.