If you love peppermint and you love sugar cookies, then you will love these cookies. Super easy to make and no chilling is necessary.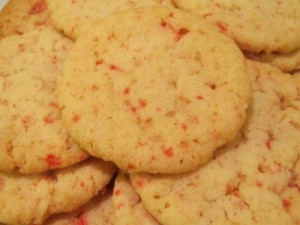 Ginny's Peppermint Sugar Cookies
2 ¾ cups all-purpose flour
1 tsp baking soda
½ tsp baking powder
1 cup butter, softened
1 ½ cups white sugar
1 egg
½ tsp vanilla extract
½ tsp peppermint extract
½ cup peppermint candy — finely crushed (about 6 regular size candy canes)
Preheat oven to 375 degrees F.
Mix together in small bowl flour, baking soda, and baking powder. Set aside.
In a large mixing bowl, with an electric mixer, cream together the butter and sugar until creamy and smooth.
Beat in egg, vanilla, and peppermint extract until totally blended. Gradually blend in the flour,
baking soda, and baking powder mixture and crushed peppermint. Mix thoroughly until a large dough ball forms. (If dough is crumbly, mix and knead together with your hands to create dough ball.)
Roll a teaspoon of dough into a ball. (I used a melon ball scoop t
o measure out dough then roll into a ball with my hands.) place dough balls about 2 inches apart on un-greased cookie sheet. Using the bottom of a glass slightly flatten cookie balls on cookie sheet.
Bake 8 to 10 minutes or until slightly golden around the edges. Let the cookies cool on cookie sheet two minutes, then finish cooling on wire racks.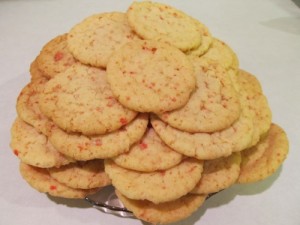 Notes:
***I use a food processor to crush the candy canes but you can put the cane pieces into a plastic bag and use a rolling pin to crush the candy.
***I usually make 2 sheets of cookies at a time, so when baking the cookies I use two of my oven shelves.I place a cookie sheet on each rack. I then set the timer for 5 minutes. After 5 minutes I move the cookie sheet from the bottom rack to the top rack and visa versa to ensure even baking.
 Download a PDF of this recipe here.