Let the kids help with these super simple no-bake treats.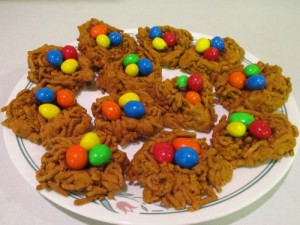 Butterscotch Bird's Nest Cookies
1 bag butterscotch chips (12 oz)
2 cups miniature marshmallows
2 Tbsp butter
2 cups Fiber One® original bran cereal
36 piece M&M's with peanuts
1 tablespoon (or so) prepared frosting to hold M&M's into nest
Melt butter in a large pan then add butterscotch chips and marshmallows and melt over medium-low heat,stirring continuously. As chips and marshmallows begin to melt, lower heat so as not to burn the pan.
Remove from heat and mix in fiber cereal until completely coated. You will need to move quickly as it becomes harder to mix in cereal as the marshmallow and butterscotch chips mixture begins to cool.
Drop by large tablespoons onto wax paper lined cooking sheet. With your hands, shape into nest shape. Dab a little frosting onto the bottom of M&M candies and press into the center of your nest.
Download a PDF of this recipe here.