Bar cookies are the easiest to make and I came up with this recipe this past summer when we wanted chocolate chip cookies but did not have a lot of time for prep. These bars seem to stay moist as long as they last, which in our house is only a few days (if that).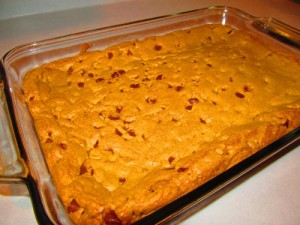 Ginny's Chocolate Chip Cookie Bars
2 ¼ cups all-purpose flour
1 tsp baking soda
1 tsp salt
1 cup (2 sticks) butter, melted
¾ cup granulated sugar
¾ cup packed brown sugar
1 tsp vanilla extract
2 eggs
12 ounces chocolate chips
1 box vanilla pudding mix (3.4 oz size box)
Preheat the oven to 375° F. Grease (or spray with cooking spray) 13 by 9 baking dish.
Mix flour, baking soda, salt, and pudding mix in small bowl and set aside.
Mix melted butter, sugars, and vanilla extract in a large bowl. Add eggs, one at a time, mixing well after each addition.
Slowly add flour/pudding mixture into butter/sugar mixture. Mix until thoroughly incorporated. Stir in chocolate chips. Spread into prepared pan.
Bake 25-30 minutes or until golden brown and cooked through. Let cool before cutting into bars.
Download a PDF of this recipe here.