I am pretty much the only one in our house that likes pecans and these sugary treats are loaded with pecan flavor. Some folks call these cookies Mexican Wedding Cakes but because I can't leave any basic recipe alone and their powdery appearance I call them Ginny's Pecan Snowballs.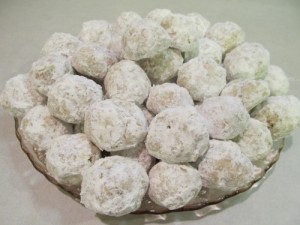 Ginny's Pecan Snowballs
1 cup butter, softened (2 sticks-I use unsalted butter)
2 cups powdered sugar, divided (1/2 cup for cookie dough, 1 ½ cups for coating)
2 tsp vanilla extract
½ tsp ground nutmeg
⅛ tsp salt
2 cups flour
2 cups finely chopped pecans (a food processor makes quick work of finely chopping the pecans)
Preheat oven to 350°F.
With an electric mixer in large mixing bowl, beat butter on medium speed until light and fluffy. Add ½ cup of powdered sugar, vanilla, nutmeg, and salt and beat until well blended.
Stir in flour and pecans until well blended and begins to form a crumbly dough.
Shape into 1-inch balls. (I used a melon-ball scoop to get the balls started and to get about the same amount of dough per cookie.) Place balls about 1 inch apart on un-greased baking sheets.
Bake 15 minutes. When cool enough to handle (don't wait too long after taking out of oven), remove from baking sheets and roll hot cookies in remaining powdered sugar. (I like to use a teaspoon to manipulate the cookie in the powdered sugar.) Also be gentle when the cookie is still cooling or they will crumble. Place sugared cookies on wire racks to cool.
When completely cool, roll again in powdered sugar.
Download a PDF of this recipe here.