Welcome to the first day of the
12 Days of Christmas Cookies Recipe Exchange
.
Do you like chocolate cookies? Then this recipe might just feed that craving.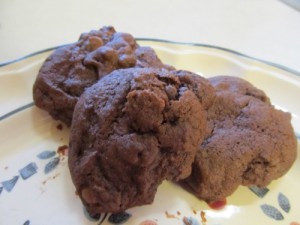 Double-Chocolate Chocolate-Chip Cookies
(The number of cookies this recipe yields depends on the size of cookies you make, but usually makes 40 3-inch cookies.)
Ingredients:
2 cups all-purpose flour
¾ cup baking cocoa
1 tsp baking soda
½ tsp salt
1 cup butter or margarine, softened
⅔ cup sugar
⅔ cup packed brown sugar
1 ½ tsps vanilla extract
2 eggs
1 cup milk chocolate chips (6 oz)
Preheat oven to 350 degrees F.
Combine flour, cocoa, baking soda and salt in a bowl. Set aside. With mixer, beat butter, sugar, brown sugar, and vanilla extract in a large bowl until creamy. Beat in eggs. Gradually beat in flour mixture. Stir in chocolate chips. Drop by rounded kitchen teaspoon onto un-greased baking sheets.
Bake for 8-10 minutes or until cookies puff up and centers are cooked but still soft. Cool on baking sheets for 2 minutes; remove to wire racks to cool completely.
Download a PDF of this recipe here.
Come back tomorrow and we will amp up the goodness of these cookies with a delicious variation.