I have been challenging myself this year to use my slow cooker at least once a week and have been pretty successful in achieving that goal. This past weekend I experimented with a new recipe I put together. We are not huge pork eaters in our house but our local grocery had Boston butt country-style boneless pork ribs on sale at a good price (BOGO) so I grabbed a few packages and decided to prepare them in my slow cooker. While they did not turn out exactly as I had envisioned (was aiming for a 'Hawaiian' flavor but didn't hit the mark-but still sweeter than just plain barbecue), they were super moist, yummy, and got the thumbs-up from my family. And as a bonus, there were plenty of leftovers to make another meal.
Please note that this recipe filled my 4.5 qt crock-pot. You will need to adjust the amounts to fit your slow cooker if it is a smaller size.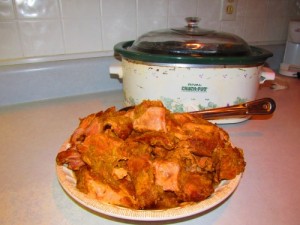 Crock-Pot Pineapple-Barbecue Country-Style Boneless Pork Ribs
@ 6 pounds boneless country style pork ribs
1 cup barbecue sauce
1 (14 oz) can of crushed pineapple
In large bowl, combine barbecue sauce and can of crushed pineapple, stirring to mix thoroughly.
Place a layer of pork ribs in bottom of crock. Spoon barbecue sauce-pineapple mixture over the top, Continue to make layers of ribs and sauce until all ribs are used.
Cook on high approximately 8 hours until ribs are cooked through.
The ribs may have been done sooner but I usually just cook until we are ready to eat. They came out perfect to us. You may want to check on them after about 5 or 6 hours to see if they are cooked through. Remember to cook pork to at least 145 degrees. (USDA-Is it Done Yet)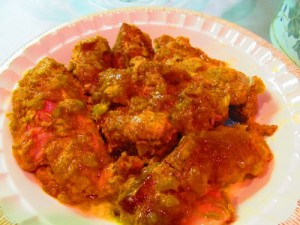 ***Use leftovers to make a second meal of pork barbecue sandwiches. Before shredding, remove any visible fat, then shred either with a fork or with a food processor. Return to crock pot, add barbecue sauce and cook on low until warmed through. Serve on buns.
 You may download the PDF of this recipe here.