I may have mentioned this before, but my husband does not like leftovers. It could be because he has always worked long hours as a truck driver and for many years had to eat supper warmed-over. The kids and I don't have any issues with day-old food and like to have them for our lunches. But recently I have been trying to figure out ways to make new meals from leftovers that did not present themselves as leftovers. Over the years I have come up with some second-time around meals that have made their ways into the menu line-up. This week I tried to come up with some new recipes and these two made a hit with both the kids and my husband. I don't know how original they might be but they are new to us.
Recipe 1:
Ginny's Crockpot Chicken and Carrots
2 lbs chicken breast halves, boneless, skinless
2 lbs baby carrots
2 cans cream of chicken soup
1 32 oz carton chicken broth, divided (Reserve ½ carton of chicken broth for Ginny's Chicken and Dumplings)
5 stalks celery chopped
2 Tbsp olive oil
In skillet, brown chicken breasts on both sides in olive oil. Set aside.
In crock pot, add baby carrots and chopped celery.
Pour half a carton (about 16 oz) of chicken broth over the vegetables.
Arrange browned chicken breasts on top of the vegetables.
Spread the cream of chicken soup over the top of the chicken breasts.
Cook for 4 to 6 hours on high (or 8 to 10 hours on low) until chicken is completely done and no longer pink.
Remove chicken from pot. Remove vegetables from pot with a slotted spoon. Stir soups together to make a thin gravy.
Serve with mashed potatoes or rice for complete meal.
Makes about 8 servings
Save about half of this meal to use for Ginny's Chicken and Dumplings.
To prepare for Ginny's Chicken and Dumplings, chop leftover chicken and carrots into bite size pieces and add to leftover soup 'gravy' to store.
Recipe 2: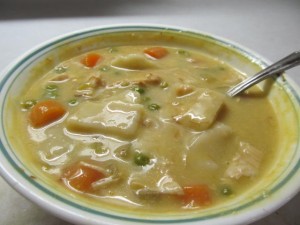 Ginny's Chicken and Dumplings
Leftovers from Ginny's Crockpot Chicken and Carrots
1 can cream of celery soup
1 cup frozen peas
½ carton chicken broth (@16oz)
½ recipe dumplings (below)
If you did not already prepared the leftovers from Ginny's Crockpot Chicken and Carrots, chop the leftover chicken and carrots into bite-size pieces then add back to leftover soup mixture. Put all leftovers in large pot.
Add cream of celery soup and peas to pot and bring to a boil over medium low heat.
In the meantime, begin preparing dumplings.(see below)
After you have your dumplings ready and the soup is boiling, drop dumplings into the pot and cook until dumplings are no longer doughy.
Makes about 8 servings
Southern Style Dumplings
2 cups all-purpose flour
1 tsp salt
¾ cup ice water (I fill a 2 cup measure with water and ice ahead of time to get the water very cold then measure out ¾ cup when ready)
Mix the flour with the salt in a mixing bowl. Bring together into a mound in the center of the bowl.
Add a small amount of ice water in the center of the mound over the flour. Using your fingers, working from the center out to the edges, slowly mix in the ice water.
Keep adding a little water at a time and combine with the flour until it forms a dough. Continue to knead the dough until it is well mixed and forms a ball.
Dust a clean work surface with plenty of flour.
Roll out the stiff dough working from the center out until it is about ⅛ of an inch thick.
After rolling out the dough let is rest for about 8 to 10 minutes. It will shrink up a little.
After the dough has rested, use a sharp knife and cut the dough into approximately 1 inch pieces.
Drop dumplings into simmering pot of soup. (you can pull the dumplings in half before adding to the pot if you would like smaller dumplings).
DO NOT STIR TO MIX DUMPLINGS IN. Swirl the pot until the dumplings are covered with your soup, (You may use a spoon to gently push the dumplings below the surface, but do not stir. Stirring tends to make the dumplings pasty and gooey.)
Cook until the dumplings float and are no longer doughy, about 5-10 minutes.
Note: After dumplings are cooked you can again stir the pot.
*We use half the recipe for Ginny's Chicken and Dumplings and freeze the other half.
To freeze: Cut dumplings into 1 inch pieces, spread out in a single layer on a wax paper covered cookie sheet. Freeze about 24 hours, then transfer to baggie.
To use: You can either just toss them into your recipe and cook until no longer doughy, or thaw in the refrigerator over night then use. Results will vary.
Download PDFs for these recipes HERE.