I recently ran across this lovely website called Many Little Blessings. Fun and full of great posts, I found an especially appealing series called "Top Ten Tuesday". For the next ten weeks the iHomeschoolNetwork.com is participating in her series with topic-specific themes for homeschooling bloggers to share their "Top Tens".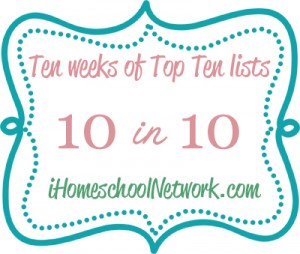 This week's topic is top 10 favorite websites to use for homeschooling. There are so many fabulously helpful and encouraging homeschooling websites out there that it was hard for me to determine my "Top Ten", but I think I have it narrowed down.
I will leave out the obvious ones like Netflix, Pinterest, and Wikipedia, but here, in no particular order, are the sites I have visited most often during our homeschooling years.
If you had to choose just 10 of your favorite homeschooling sites, which ones would you select? If you post on your blog, why not link up at Many Little Blessings' site HERE so others might find that perfect resource they might have been looking for and did not already know about. Also I'd love to know your choices, so go ahead and leave me a comment so I can check them out too.