I think I am one of the lucky ones who have not had to move around a lot in my life. As a matter of fact, I have lived in 4 apartments (2 when I was a kid and 2 when I was an adult) and 4 different houses. I have very fond memories of the homes that I had the privilege to occupy. The first house that we lived in was in eastern Massachusetts. I was about 4 years old when we moved in and about 13 when we left.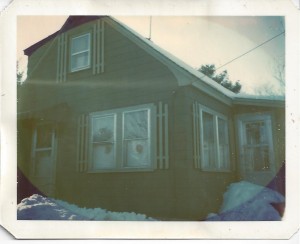 I learned recently that this house has been demolished to make way for a brand new house, but nothing can demolish the memories that were made there. My dad made the bedroom that I shared with my two sisters. My sleeping area was in an alcove in the slant of the roof. It was really cool and like a hide-away. (These pictures were taken shortly before we moved and most everything was already packed)
When I was about 13 we moved to a home in western Massachusetts.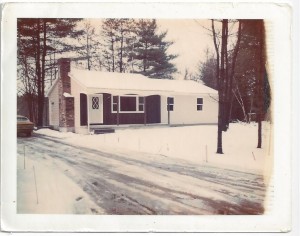 This is actually the listing image. After we moved into this house my folks added on a den and a huge two car garage to the side with the chimney. When we first moved in I slept in the living room while my dad built me my very own bedroom in the basement. I was so excited to have a room to myself. It was a great room too.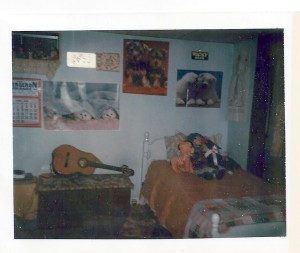 My dad made a built in bookcase with a drop down desk for me to do my homework and I had a little basement window that I kept my little dolls on. I actually still have a most of the items you see in the picture above (excluding the posters and calendar). One of the coolest parts of this room was that the floor was covered with little carpet square samples of all different colors and patterns that I could rearrange whenever the mood struck.
When I was 18 I moved into a tiny apartment that my folks helped me to get and set up as a cozy home. I lived there for a few years, then, because there was the threat of layoffs where I worked, I moved back home for a few months. The layoff never happened and shortly after moving home I moved back out into a 3 bedroom apartment almost as big as the first home my husband and I had.
When my first born was about a year old, we built our first home. My husband had previously owned a home before we met, but it had burned to the ground and the land had sat empty (except for a basement shell) for a few years. We used the land as collateral and decided to buy a modular home. We basically designed the home and they built it the way we wanted.
The land went from this: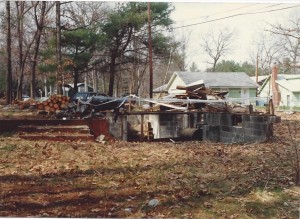 to this: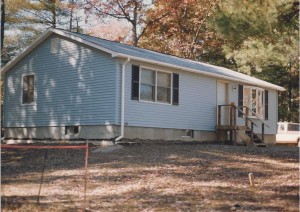 in a little over 6 months. We did a lot of the work on the land with the removal of the old debris ourselves and prepping the foundation after it had been poured. With help from my husband's uncle, we poured the basement floor ourselves and built the basement stairs from the wood that was milled from the trees we had taken down. After the house was set on the foundation, we built the back porch and we finished the basement as a family room and office (could not find a picture of the basement) It was very exciting (and tiring) but totally worth it.
We lived in the house for about 4 years, but felt the Lord was directing us to make a big change in our lives. At the time we owned our own tractor trailer truck and my husband was over the road. We felt that if we moved south that he would be home more. So we put the house on the market and were determined to get a certain amount of money for it. Despite only a few lookers and our realtor telling us that we would probably not be able to sell at our asking price, we stood firm. We felt that if this was the direction that the Lord wanted us to go, He would bring the perfect buyer to us. And He did. So we packed up everything we owned, including the car, into a borrowed tractor trailer, and headed to South Carolina with our cat and bird sharing the tractor cab with the 3 of us. It actually snowed the day we left which we totally knew we were not going to miss. We lived with my parents for about 2 months and then moved into the home of my dreams. It was a bank repossessed home that needed a lot of work, but felt so perfect for us the minute we walked through the door.
One of the first things we did was to put in a driveway.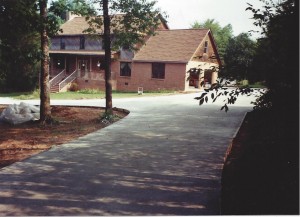 In addition to all the interior improvements we have made, we have put siding, garage doors, and lots of landscaping.
20 years later we are still living in this house. The Lord has blessed our lives here beyond anything we could have imagined. 2 of our children have lived here all their lives. I can't even imagine living anywhere else. There really is no place like home.