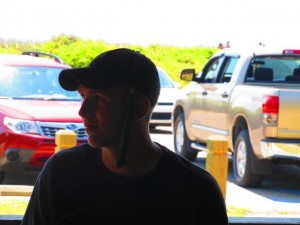 On April 29, 2012, our middle son graduated homeschool style. My children are not into formal ceremonies at all so we let them determine what they wanted for their graduations. For my oldest son the family gathered at a local restaurant and we just simply presented him with his diploma. That was in 2004. We spoke with our middle son about what he wanted and came up with a plan that fit his personality to a "T". He is very outdoorsy and loves going to Myrtle Beach, South Carolina every year. When the kids were younger we participated in all the free educational programs that were offered during our stays and my son's dream is to someday use the skills that he will be receiving in further education to work at the ocean, so it seemed fitting that we would have his graduation there. It just so happened that family members were planning a stay at the beach about the same time as we were finishing school so the timing was perfect to have the graduation while they were there. So we planned our trip, made our reservations at the State Park campground, and made plans to have a small graduation ceremony. We reserved a picnic shelter on the beach and decided to have a cookout.
Before we left, I created my son's diploma to match his brother's (so that all my children's diplomas will be uniform in appearance), let him select his own "school colors" (he chose black and green), and ordered him a tassel. He did not want a cap and gown but did want that tassel to hang from his car mirror as a testament of his achievement. I also uploaded "Pomp and Circumstance" to my Ipod and we were all set to go.
On Sunday (when we had the party) we set up for the cookout. I had purchased graduation plates and tablecloths at the Dollar Store to pretty up the shelter. Besides my husband, our daughter and myself, my folks, my mother-in-law, our oldest son and his wife, and my Aunt and Uncle (who is my middle son's name-sake) were there. After lunch we had a 5 minute "ceremony". We played the MP3, my son put the tassel on the button of the ball cap he always wears, and his father and I stood on each side as I read his diploma to him and presented it.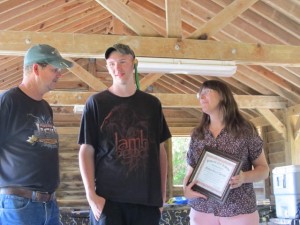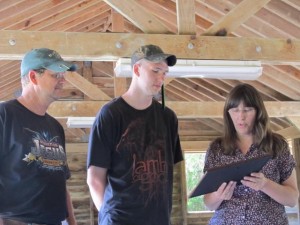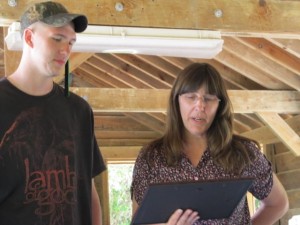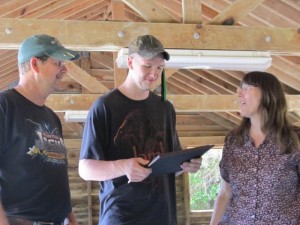 I then moved the tassel to the other side and we were done. It really was short, simple, and exactly what he had wanted.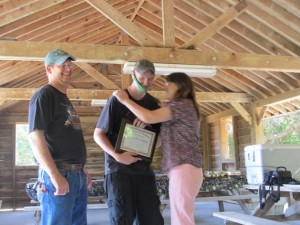 Lots of folks opt for much fancier commencement exercises but this is what worked for us and what made my son happy. He simply wanted those who encouraged and supported him through his schooling years there and not a lot of strangers who really had no affect on his life. Sitting through a speech and a lot of bells and whistles just isn't his style. I know he will look back on the intimacy and sincerity of his graduation day with fondness. We are so proud of him and are excited to see how the Lord will use his gifts and talents in the future.