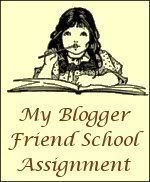 Memory Verse:
Matthew 14:19
…Taking the five loaves and the two fish and looking up to heaven, he gave thanks and broke the loaves.
Intro:
Finger Lickin' Good
You can read about Christ feeding the 5,000 in many places in the Bible (Matthew14:19;15:36; Luke 5:6;9:3-17). I am a fairly new Christian and one of the many things I love about reading the accounts of Jesus' miracles, is that there was not a big drum roll, fireworks, a thousand dollar suit or an agent building up some big preview of what was about to happen. Jesus would calmly say things such as "have faith", "believe", "have them sit and pass out these loaves of bread", and then the miracles began.
Assignment:
Although I am not able to produce miracles, it sometimes feels like I need to when it comes to meal time. There are times when money is tight, groceries are few and I have to feed my family. During the holiday season, you might have so much going on that you need to make a meal quickly with as few ingredients as possible. This week post your favorite recipes that require six (6) ingredients or less. Can't wait to see what you come up with!
The past few weeks the only kinds of meals I have been making seem to be '6 ingredients or less'.
I have a bunch of easy recipes listed in Monthly Munchies, but I thought I'd share another.
This isn't exactly a meal recipe but we used the leftovers to make egg salad sandwiches.
Deviled Eggs
1 dozen eggs, hard boiled
1 teaspoon dry mustard
¼ cup mayonnaise
Salt and pepper
Food processor
Disposable pastry bag
Cake decorating tip with about ¼ opening
Peel eggs and cut in half lengthwise. Slip yolks into food processor. Add dry mustard and mayonnaise. You may want to add a bit more or less mayonnaise to get the right texture. Process until smooth. Salt and pepper to taste.
Put decorating tip on disposable pastry bag. Fill bag with egg yolk mixture. Fill egg whites by squeezing the yolk mixture into them.
Makes 24
To make egg salad sandwiches just break up leftovers with a fork and put on bread.