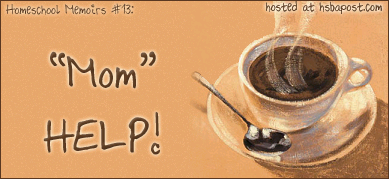 This week I'd like to invite you to share what YOUR "Mom" help is. Some drink coffee, soda, or chia-tea. Others check email or read their favourite blogs. Some talk a walk…. what do you do when you need to clear your head and take a breather?
There are a couple of things I like to do whenever I need to clear my head and take a breather. I am always encouraged and uplifted after reading God's Word. When I have free time I love to read some of my blogger friend's blogs. When I really need to wind down in the evening, I slip into my jammies and my fluffy bathrobe, settle onto the couch, and watch some of my favorite TV shows. With all the things going on in my life, watching TV just allows me not to think about anything and to just enjoy being entertained. Some of my favorite shows are Survivor, The Amazing Race and I love the old classics like Hogan's Heroes, Dick Van Dyke, and I Love Lucy. A healthy dose of "Vitameatavegamin" cures what ails me.
Jeremiah 35:25– For I have satiated the weary soul, and I have replenished every sorrowful soul.