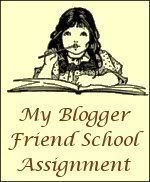 Memory Verse:
Isaiah 40: 1
Comfort ye, comfort ye my people, saith your God.
Assignment:
Tell us all about how your have "your" relaxing time, more especially how during the cooler months you take time to curl up with your favorite movie, book, Bible study, and what your favorite warm drink would be.
I spend my relaxing time in the cooler months pretty much the way I do in the warmer months. Having an ADD type personality, I find it relaxing when I'm caught up with everything that I have to do, whether it is housework, schoolwork or my job. I really enjoy reading blogs and writing poetry. At the end of the day, I enjoy putting on my P.J.s and fluffy bathrobe and lounging around on the couch watching some of my favorite TV shows. I call that my 'do nothing time'. I also find it quite relaxing to start every day reading my Bible. It helps set the whole mood for the day.
As far as my favorite warm drink, I much prefer a cool glass of water to anything else. I do drink an instant cup of decaf every morning.
I find this verse brings relaxation to my Spirit.
Matthew 11:28– Come unto me, all ye that labour and are heavy laden, and I will give you rest.