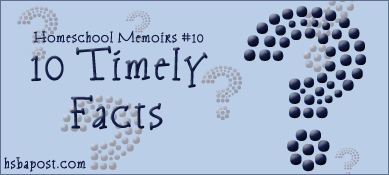 I'm playing a bit of catch-up on the assignments, thus the reason for them being out of order. This was last week's assignment for Homeschool Memoirs.
The time will be changing again. I think on Sunday but not sure. Anyhow this is our 10th Homeschool Memoirs so this week it's going to be about 10 timely facts about you! Write 10 interesting, crazy, weird, fun facts about you! Include facts about you as a woman, a wife, a mommy, a homeschooler, a homekeeper, a taxi-driver, a cook, etc . I only put 10 facts because I didn't want to overwhelm you, but you're welcome to do more.
What don't you know about me? This will be hard.
1. I am a cheerful early riser. I love my Bible-time and my decaf coffee (2 sugars and milk) in the morning.
2. I hate to cook but love to bake.
3. My husband and I went to Disney World for our honeymoon and about 5 years later went again for a second honeymoon. (I've been to Disney 4 times in my life)
4. My favorite board game is Scrabble, but living in a house of non-spellers, I have to play alone.
5. I love to go on walks and to the parks with my kids.
6. When I was 18 I tried to join the Air Force but because of kidney problems I wasn't accepted.
7. I don't mind doing the laundry, folding the clothes and sorting them, but I hate putting them away.
8. I definitely would rather clean the bathroom than do dishes.
9. I absolutely love homeschooling and get very excited when I talk about it and all its benefits.
10. Lastly, my husband and I have issues over driving. He's a professional driver and we differ about directions and driving style whenever we are out together. So mostly I let him drive so we don't have 'discussions' about it. lol