I am so excited.  The Old Schoolhouse Store is carrying some of my e-books.  There will be 3 copybooks, one in manuscript, one for transitional manuscript, and the third for cursive.  The title of the 72-page copybook is "Biblical Character Traits to Learn and to Live" and features 60 favorable character traits along with a King James passage to copy to reinforce the trait.  There is also a place for the student to illustrate the passage.  I decided to make these books in black and white because, although I love the colorful books out there, I prefer to print things in black and white to save on the cost of ink.  As of last night they have only the transitional manuscript book posted but it won't be long before the other two will be listed.   I have been using it for a few years with my own children.  We do one passage a week.  We first read over the passage, and then we discuss it.  Sometimes we look it up in other versions of the Bible to get another wording.  Then the kids copy the passage in their best handwriting and draw a picture to show they understand the trait.  Then they have a week to memorize it.  They used to take the whole week getting the passage down, but as they've grown older, it has become a whole lot easier.  If you are looking for a copybook that could be used not only for handwriting practice but also for Biblical study and memory work, this may be for you.
Here is an example of the passage we used last week: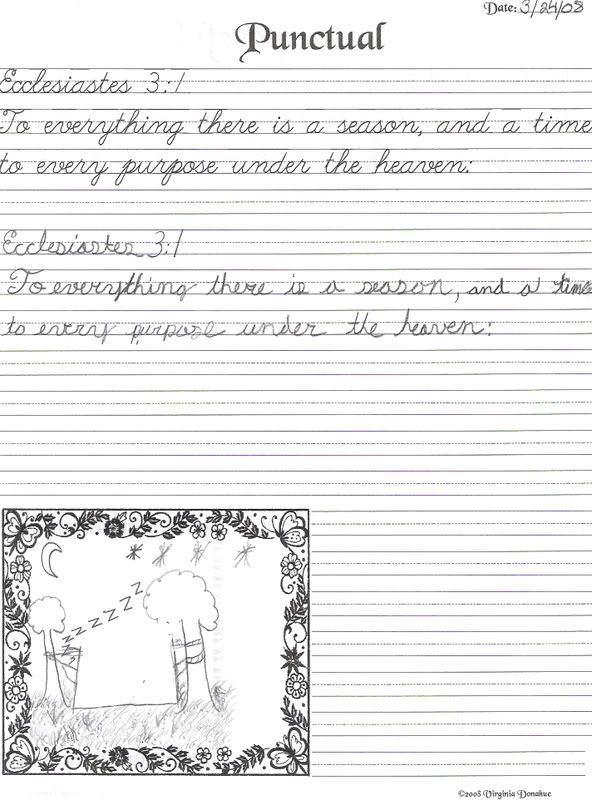 You can find this and all my other e-books at my store by selecting the "Our Products" tab above.