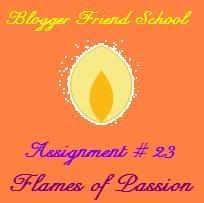 Nancy writes: "For this weeks assignment I decided to take an idea from a fellow BFS'r. I'd like a Yea or Nay in a comment if you'd be interested in passing along an idea or you can just email me. This week I'm using an idea from Sombra at More Little Wilsons. I do have plenty of ideas that I've written myself, but thought it would be fun if we did a round of BFS on the blogs that participate.
Sombra wrote, "I think it would be interesting to find out if some of the other ladies have sunk their teeth into something new in the last year or so, what are they enthralled with, what has claimed the fires of their passion." You can post pictures or as many things as you'd love to start doing for YOURself. I stand corrected but I took it from Sombra's email that she meant OUR OWN passion and not something your children or husband would like you to learn. Make sure you include a favorite scripture."
I love to learn. Over the past year or so I have been messing around with HTML and trying to learn how to create my own web page designs. I haven't had much time to play with it during this school year, but every now and again I try something new. I am trying to work my way into learning how to create software. I have a strong desire to someday go to school to learn programming so I can create educational software that is both fun and informative for high school students.
Most recently I have been enjoying working on my e-books. I am really trying to create products that are not only useful but also have a multi-discipline appeal.
I have also been striving to get my house to run smoothly. My household binder has proven to be a valuable resource in that department and making the kids their own binders has worked wonders. I am still working on getting things to the way I want them to be. Not everyday runs smoothly, but being flexible and prioritizing has made all the difference: so much less stress.
There are so many other things I have a passion for that sometimes I am overwhelmed by the possibilities. My deepest passion is always, first and foremost, to know my Father in Heaven better and try my best with His direction to live as He would have me live.
Ecclesiastes 9:10
Whatsoever thy hand findeth to do, do it with thy might; for there is no work, nor device, nor knowledge, nor wisdom, in the grave, whither thou goest.