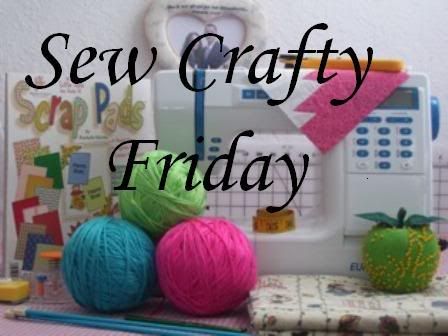 Shereen at Waiting for Him hosts Sew Crafty Friday.
I finished Kellie Ann's quilled frame last week but waited until this week to post it so I wouldn't spoil her surprise. I have only made 1 other design on a dark colored mat so I had to choose colors that showed against it and that would fit into her décor. I have no real sense of color. I chose what I thought would look nice together. I tried to make magnolias because she was a southern girl but they came out too large for the design. I continued to have a few problems with proportion and size on a few of the other flowers I created, but it finally all came together. It wasn't all that hard just different for me.
I thought I would explain how I made one of the simple flowers in the design.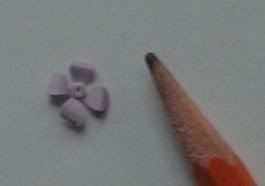 The tiny flowers are made using a shape punch.  I used a four-petal flower mini punch:

 After punching the flower from 3/4 " quilling paper or scrap book card stock, use a hat pin or quilling tool to curve each petal under.  Then place a small amount of glue into the center and a coordinating seed bead into the glue.  Using tweezers will help in curving the petals and placing the seed bead.  These would look cute on a scrapbook page for spring.
I also finished the outfit for my daughter's doll to go along with her American Girl Kirsten lapbook study she did. She helped to do the project by pinning and cutting out the patterns.  I sewed the outfit together in a few hours.  She still is not comfortable using the machine and small work. She has posted a few pictures on her blog of the lapbook and her and her doll dressed in pioneer attire.