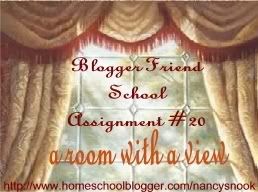 Nancy has come up with a fun assignment this week.
"There are lots of windows in our lives, i.e., window of our soul, closed windows and open windows that God has for our lives, there's what some people call their, "window of opportunity", and there's "eyes are the window to our soul". The assignment is to take a picture, if you're able, find a graphic if you can, and write about your favorite window in your home or the one you look out of when you have those 'daydreaming' moments."
I love all the windows in my house. There are different views from every one, but my favorite window doesn't look so much into the outside world as to the inside. Between the kitchen and the dining room we have a window. I am able to watch my family at the dinner table while preparing meals or have conversations from where I sit while my children do the dishes after eating. From this window I am able to look out the kitchen windows and the dining room windows without obstruction. There is a small shelf in this window that serves as a resting place for the everyday 'stuff', the phone, a message center, mail, and other things that haven't been put in their place. Windows provide a connection and this one allows for my favorite connection with those I love.
View from the kitchen into the dining room:
View from the dining room into the kitchen: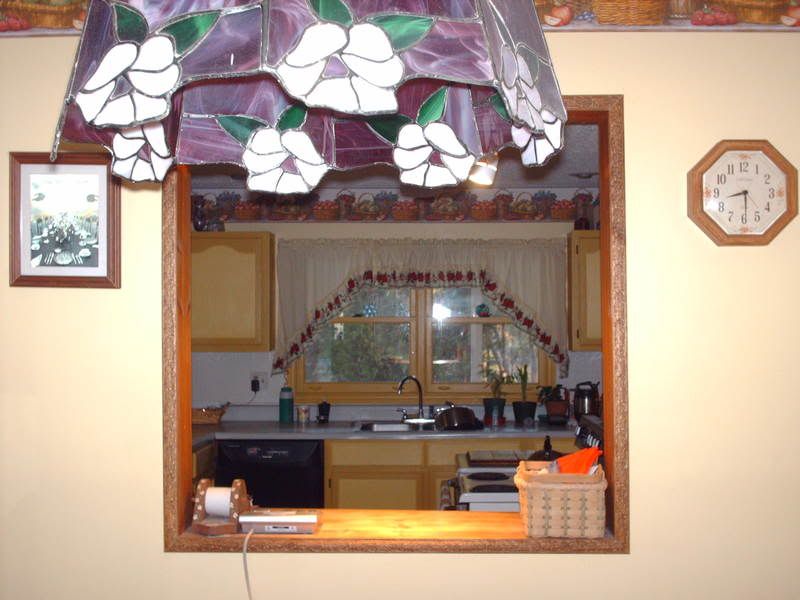 This Scripture caught my attention this week.
1 John 1:6-7
If we say that we have fellowship with him, and walk in darkness, we lie, and do not the truth: But if we walk in the light, as he is in the light, we have fellowship one with another, and the blood of Jesus Christ his Son cleanseth us from all sin.