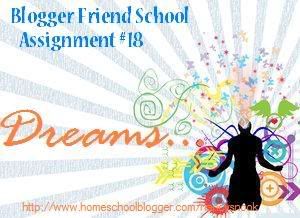 This week's assignment we are to tell about what we wanted to be when we grew up. This has changed many times over the years and I'm still trying to decide what I want to do.
No kidding—I have always wanted to be a wife and mother to 3 children, two boys and a girl thrown in for good measure. I even had their names picked out, but as my dream became reality the names were changed. Probably a good thing or our family would have had a few cousins with the same names. Instead, we chose each child's name to honor someone special in our lives. (That story will make a good post for another time).
I enjoyed working with children. I started babysitting when I was 12 or 13, and did it pretty much every spare moment. So I had mused about being a teacher. I have done that and am still doing it only at home now.
I really wanted to be a singer/actress and was part of several different performances during my youth. But alas, that wasn't going to pay the bills.
I have been writing ever since elementary school, with a fondness for poetry and music. I have a trunk full of songs I have written and cassette tapes of those songs that I recorded in my teenage years. I still dream of someday being published.
My mother and I often still talk about what I want to be when I grow up even now that I am over 40. When the kids are grown and gone I would like to go back to school and learn computer programming and software design. I would like to create educational programs for teens that keep them interested while they learn something. I would also learn to write better so that perhaps someday I will be a published author that someone would like to read.
This Scripture verse seems fitting for this assignment:
Proverbs 3:5-6 Trust in the LORD with all thine heart; and lean not unto thine own understanding. In all thy ways acknowledge him, and he shall direct thy paths