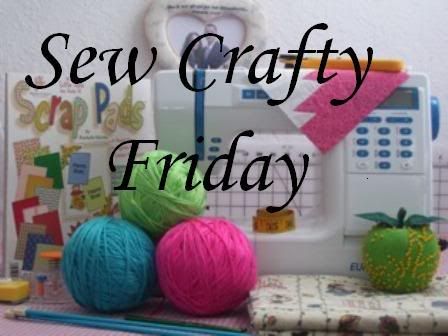 Shereen at Waiting for Him

 hosts Sew Crafty Friday. I thought I'd join and share one of my favorite pastimes and some of the projects I have created.
I love to craft and always have.  As I previously mentioned in one of my tags, I do all kinds of crafts.  I usually give everything I make away as gifts.  For many years, Christmas at my house was more like Santa's workshop.  I would make a list of all those we would be giving gifts to, and plow through all the patterns and ideas I had collected, choosing just the right projects for that year. I would begin work in the summer and would probably be still working on something right up to Christmas day. The other members of my family would often pitch in when they could.  It gave me such satisfaction to give a gift that I put my heart into.  Over the past few years, as my time has been whittled away with other activities, there have been less and smaller homemade gifts going out.  I always make something for my children, no matter what.  Last year, I bought these huge travel bags and sewed all the patches they had from Scouting and other things onto them almost covering the bags completely with them.  This year, I have a few things in mind and one in progress, but I won't be able to share them until after the holidays. (My family actually reads my blog), so I thought I might share some pictures of projects from the past until then.
I made this guy about 10 years ago.  It is a pattern from Family Circle magazine.  I used an old pair of blue jeans and the shirt is made from an old pair of maternity pants.  I even cut out the "Welcome" sign myself.  He adorns our front door every fall.  If you are interested in making one of these for yourself, you will need the 9/19/95 issue of Family Circle Magazine.
Here is a close up of his face.