My family loves pies.  This month I thought I'd share our favorite apple pie recipe.  This is one of the first recipes I created after I was married.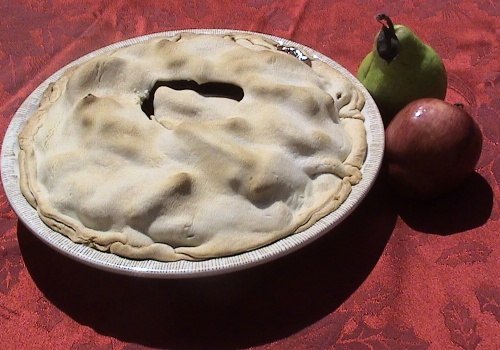 3-4 apples (I usually use a combination of Granny Smith, Red Delicious, and Rome)
3-4 Bartlet pears (I look for very firm pears)
½ cup raisins
1/3 cup sugar
3 tablespoons cornstarch (flour can be substituted in a pinch)
1 teaspoon cinnamon
¼ teaspoon nutmeg
2 tablespoons butter
pie crusts for 2 crust pie (I usually buy the pre-made crusts)
Preheat oven to 425º.
Prepare a 9 or 10 inch pie pan by lightly spraying with cooking spray or coating with a thin layer of shortening, then dust with flour. Press 1 crust into the pan and set aside.
Pare, core and slice apples and pears. Put into a large bowl.
Add the rest of the ingredients except the butter and blend well. (I put all the ingredients into a bowl with a cover then I, or one of the kids, shake the ingredients to mix).
Mound the filling into the prepared crust, cut butter into small pieces and place on top and around the fruit.
Place the 2nd crust on top of the fruit; overlapping the edges and loosely pinch the edges of the 2 crusts together. You may want to cover the edges with a bit of foil to keep them from getting too dark.
Bake at 425º for about 40 to 45 minutes until the fruit is fork tender and the crust is light brown. If you find that the crust is browning too quickly, make a foil tent to slow down the process.
Cool on wire rack before serving.
We love this warm a la mode or with whipped cream.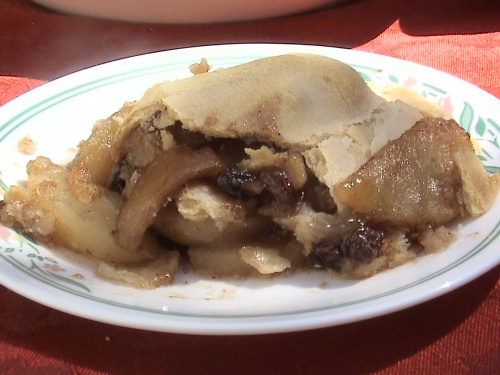 Download recipe PDF
HERE
.