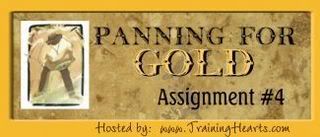 For this assignment we are to share our internet treasures. There are so many out there it was hard to chose the ones that might be most useful to someone else. Also some of the same sites work in more than one category. Here are my 'nuggets' to share.
Favorite place to blog – Homeschoolblogger
A website that you visit everyday- Dogpile
First place you look for a book to buy- Rainbow Resource
Favorite Homeschool Support Area- Homeschoolblogger
Homeschool site full of information that you use regularly- Homeschooling Library
Site that you buy your curriculum from- E-Bay and Rainbow Resource
Site that offers frugal tips to save money- Miserly Moms
A site that provides good wholesome recipes- I don't know about wholesome, but unlimited supply of new recipes –Kitchen Link
An informational site that shows you "how" to- I'm currently working on making a Home Manager Binder and this site has a great "how" to- My Blessed Home
A homeschool family website that you purchase from to support them- I'm pretty sure these are homeschool family businesses- Rainbow Resource, Heart of Wisdom, and History Scribe
A charity website that you support- City of Hope-Walk for Hope
*****(BTW- a friend of mine is looking for sponsors. If you are interested in supporting Breast Cancer Research here is her sponsor page. Thanks in advance!)*****
Favorite Graphic site to get graphics for your blog or other things- There are so many but these are great sites for black and white images Black and White Prints and Clipart Etc.
Site that offers an educational calendar listing important historical events and also to keep you informed on upcoming events.- Teacher Created Materials.
Site that offers Homeschool Freebies- The Homeschoolmom
Site that offers any kind of Freebies- Free for Teachers
A blog to read that is always full of humor- Hilltop Academy
A blog to read that is always full of useful information- Peakmore Academy
A blog to visit because it is eye appealing and easy to read- Bloom Where Your Planted
A blog that you read because it inspires you to be a better homeschooling mom- Song of the Sagebrush
A site that you would allow your children to visit- Disney Channel
List any other sites that you would like to share that have provided you with a wealth of golden information. I regularly post websites I've found to be useful and interesting. You can view them at Websites and Other Resources.