This recipe is my own creation and a regular staple in our home during the warm summer months. We not only eat it as a side but quite often it is eaten alone for lunch or a snack. It is definitely a family favorite.
1 pound elbow macaroni
2 cans water packed tuna, drained and flaked
3 to 4(more if you like) celery stalks, chopped
1 jar sliced green olives, drained
1 small onion, finely chopped
@ ¼ – ½ cup mayonnaise
@ ½ – ¾ cup French dressing
Garlic powder
Onion powder
Salt
Pepper
Cavender's Seasoning (optional; we use this is just about anything)
Boil pasta until tender, drain, and then rinse with cold water until cool. Combine pasta, tuna celery, olives, and onions in a good size bowl. Starting with ¼ cup mayonnaise and ½ cup French salad dressing, mix to coat. Add more mayonnaise and French dressing until everything is completely coated. Season with garlic and onion powder, salt and pepper, and Cavender's Seasoning (if you want) until desired taste is achieved. This can be served right away. The flavors blend more after being in the fridge for a while.
Hard to say how many this serves, but I would guess 8-12 depending on the serving size.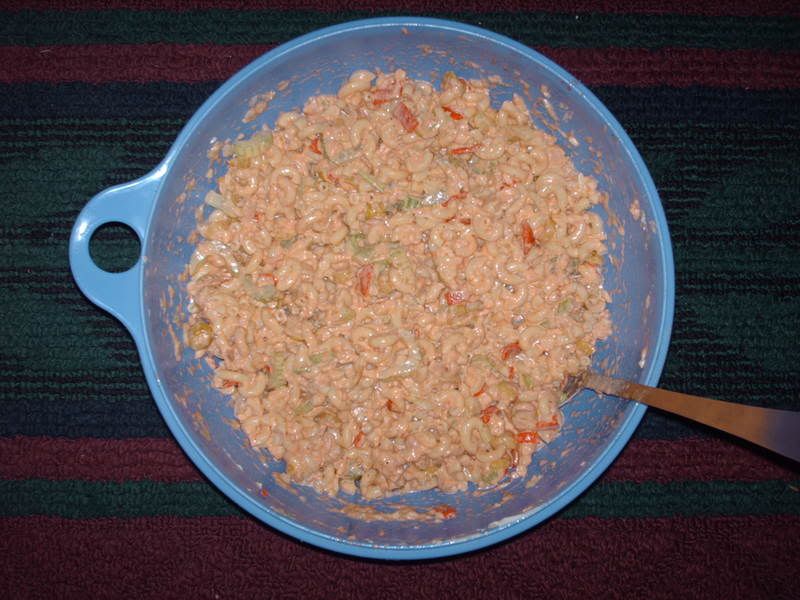 This recipe is very flexible. We have added all kinds of things just for a change. When the garden crops start coming in we have added cucumbers, radishes, peppers, and even broccoli (not necessarily at the same time). We also like to change the pasta around a little using tri color twists, wagon wheels, shells or ziti. Have fun experimenting with your family's favorites. Enjoy.