I am an avid word game lover so I jumped at the chance to check out this new game called Typecrush™.   Made in the U.S.A from 100% recycled materials, this versatile game can be simple enough for young readers but challenging enough for older folks, like me.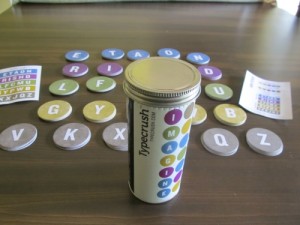 The whole Typecrush™ game comes in sturdy cardboard can with a twist-top lid that is reminiscent of the old Tinker-Toy or Lincoln Log cans, making it portable enough to bring along wherever your travels take you.  Inside the can are 98 discs with letters printed on them and divided into 5 color-coded groups based on how often a letter appears in the English language.  There are also a couple of cards that show you the letters in each of the color categories to aid you in game play, but don't worry if these get lost or messed up.  Everything you need is also printed on the can.
Playing the game is deceivingly simple.  You decide on a word (but don't let the other players know that word), select the tiles, place them face down on your playing surface, and the other players use the frequency chart to figure out your word.  Sounds easy enough, but, depending on the word, it could take some time to solve.  And the best part of all, there is only one rule – whoever solves the word first chooses the next word.  This allows for the flexibility of the game to add your own rules such as if the players get stuck you can give clues or hints. Or you could assign point values to the different frequencies or you can confine word choice to your spelling lists or specific categories.  Typecrush™ encourages you to use your imagination in your game play.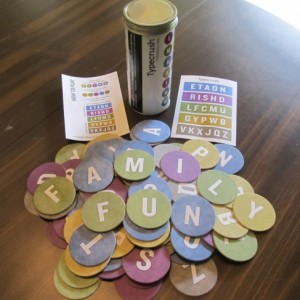 After playing the intended way, we made up our own variations to play.  Instead of only one person selecting a word, we each chose a word of the same number of letters.  Then we took turns guessing letters.  The first one to guess the other's word, won.
We brainstormed some other ways to play, and came up with some simple ideas especially for children beginning to learn to read, that might help with letter recognition skills. A game of concentration is always fun.  You could sort out the letters and choose the ones your child is working on, or use all of them (but take out 1 disc of the least frequently used letters because there are only 3 of each of them and 4 of the all the others).  Lay them all out on the table or floor for a giant concentration board.
Also for the younger set, I bet you could play a kind of "Go Fish" (again evening up the number of discs) or how about a game similar to Uno or Dominoes using letters before and after or matching colors.
For older students, I bet it would be super challenging to try to play a free form game of Scrabble or how about a game like Boggle where you lay out the discs randomly in rows and then remove touching discs that spell words.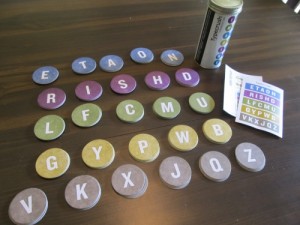 I definitely think that Typecrush™  would also be a useful manipulative addition to a homeschool classroom as the letter discs can be used to help students learn their letters and spelling words beyond the fun of playing games.  Although the $25 price tag might be out of my budget to invest in a game, that price does include shipping.   Also, because the product is made in the U.S.A. and from 100% recycled materials, purchases would not only support American industry but leave a smaller impact on the environment, if those are goals for your family.
Visit the Typecrush™ website to learn more and purchase your own game.  Or follow Typecrush™ on Facebook and/or Twitter.