Summer weather has come and it's time to plan our vacations.  I have created a few worksheets that I use to help me keep all the details of our vacation in one place.  We tend to take a few short, 3-day trips and usually only one longer trip.   Because we are avid campers, I also keep my camping checklist handy.  To download these forms, either click on the image or the text link below each.
I use this worksheet to record important reservation information, to keep track of things we need to do before leaving, a little clothing packing list, a linens and things packing list, a section for planning a 3-day menu, and a section for random notes.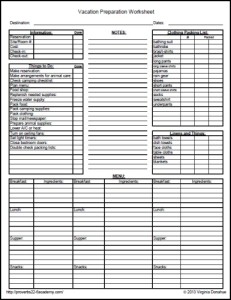 Download the Vacation Preparation Worksheet
Alternatively, I have a simpler worksheet without a menu section but ample room for notes.  I have used this for when we are headed out of town and will not be camping.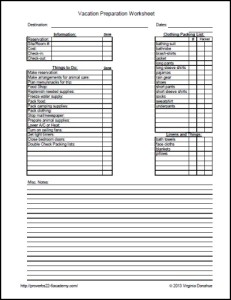 Download this version of the Vacation Preparation Worksheet (2).
If we are planning to be gone for longer than a few days, I use this menu planning worksheet.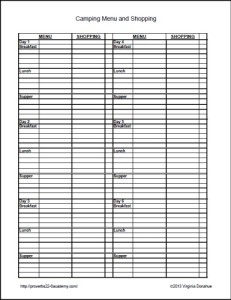 Download the 6-day Camping Menu and Shopping Worksheet
This is our updated camping packing list.  (You can see the old version here.)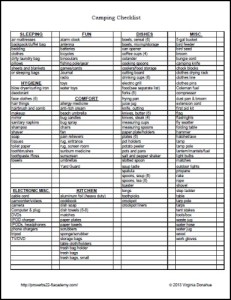 Download the updated Camping Checklist
Feel free to download these forms for your use. And I sure would love it if you left me a note letting me know if you found these forms helpful.  It is so encouraging to me to keep making things like this available to you all.