Like so many other family's, we enjoy a good corned beef and cabbage dinner for St. Patrick's Day.  I came up with this crock pot version last year and it has become a favorite of ours and we don't save it just for St. Patty's Day any more.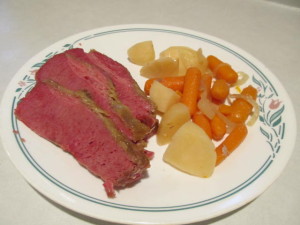 Ginny's Crockpot Corned Beef and Vegetables
1 medium onion, cut into wedges
4 large potatoes, cut into chunks
1 pound baby carrots
3 cups water
3 garlic cloves, minced
1 bay leaf
2 tablespoons sugar
2 tablespoons apple juice
½ teaspoon pepper
3 pounds corned beef brisket with spice packet
1 head cabbage, cut into wedges
1.   Place the onion, potatoes and carrots in a 5-qt. slow cooker. Combine the water, garlic, bay leaf, sugar, apple juice and pepper. Put contents of spice packet in a tea ball or enclosed in cheese cloth tied with a string.; pour over vegetables. Top with brisket and cabbage.
2.  Cover and cook on low for 8-9 hours or until meat and vegetables are tender. Discard bay leaf and spice packet before serving.
You may download the PDF of this recipe here.