Anyone who knows me knows that I love planners of all kinds, but I especially love the ones that can be found for free around the internet.  As a member of the Mosaic Reviews team, I was pleased to have the opportunity to review a free blog planner.  The hardest part was selecting one that I thought would work with my little idiosyncrasies.
Enter Infarrantly Creative's free, simple, downloadable, blog planning forms.  It felt like a perfect match for me.  The first form is an undated calendar with a little "notes" block at the bottom.  The second form is the weekly blog planning form which has 8 sectioned blocks on it.  There are 3 blocks to record your post ideas, a "To Do" block with space to track 10 tasks you want to complete, a separate idea block, a block to put in your weekly statistics, and another block to make note of bloggers you want to remember to encourage that week.  Just enough space to brainstorm and track your blogging habit.
I like the idea of having only 3 blocks for recording post ideas.  For me, that seems to be a manageable amount of posts to do for a week.  Though I haven't quite worked myself back up to that many a week again (one of my blog goals for 2013), it is nice to have a place to put down my ideas and then come back to them if I don't get to writing them up for that week.
The handy "To Do" list is great for keeping track of what needs to be done to get a post ready for publishing.  I am using the "Ideas" block to jot down random thoughts that I come up with while working on a post or inspiration that just strikes me while surfing the net.
I haven't used the "Weekly Statistics" box as of yet, mostly because I don't blog for numbers, but I can see where this block would be very helpful to someone who might need to report numbers to someone for business purposes.
I love how Beckie included the "Blogger to Encourage" block.  When I first began blogging almost six years ago, I made it a point to daily visit my favorite blogs and comment on all the posts I would read.  I have made some wonderful blogging friends over the years who I still regularly visit. Now, most days, balancing my work load, homeschool, and daily life, I just find it easier to read my favorite blogs via email subscriptions or feeds and I sadly fail to comment.  Feedback is so important to those of us who blog.  I know I really appreciate when someone leaves me a comment. We all want to know that our efforts have merit and aren't a waste of energy. What a blessing Beckie is for foreseeing the need to encourage our fellow bloggers and help us to remember this important part of the blogging community.
When you visit the Infarrantly Creative website to grab your own blog planner worksheets, not only will you find two versions of the forms, one with a background design and a plain, black and white version, but Beckie also gives you step-by-step instructions and a video on how she created her planner to fit her specific needs as a left-hander.  I totally loved how she made her planner, though I made mine to fit my style.
This is what I did that seems to be working for me.  I prefer the versatility of a 3-ring binder, so I chose to make myself a blog planning binder.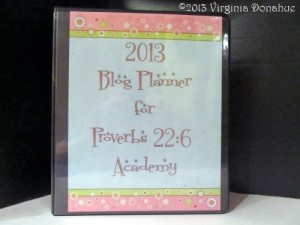 Because I wanted to save on ink and prefer to work on a clean page, I selected the plain version of Infarrantly Creative's blog planner sheets.  I printed out only one calendar, which I use just as a generic post category schedule.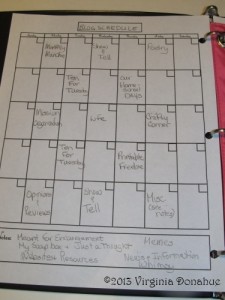 Then I printed two weekly blog sheets (I plan to print more as I fill these up).  I returned the two weekly sheets to the printer paper tray, upside down, so that when they came out of the printer the tops of the pages were on opposite ends.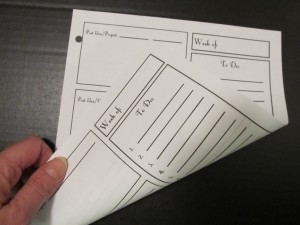 Using my 3-hole paper punch, I punched the holes on the right edge of the calendar and on the left edge of the weekly sheets.  I put the calendar into my binder so when open and looking at it, it was on the left, face-up.  Then I put the weekly sheets so that they were face up on the right side of the open binder.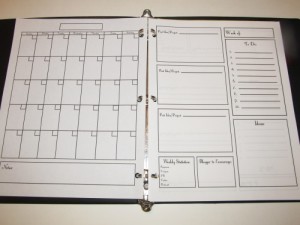 You may be wondering why I printed the weekly pages upside down, front to back.  The reason is that when I am done with one week, I can just flip the page over, put it back into the binder and it will still be on the right side, top up.  I put my binder pencil case between the calendar and the blog planning pages, so that when I am ready to plan I can quickly open to where I need to be.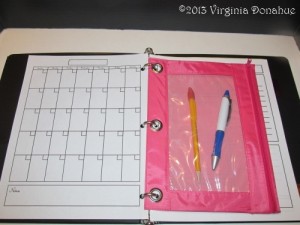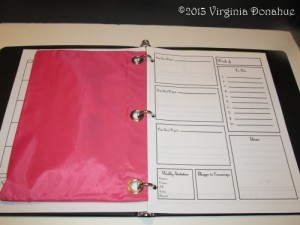 While you are visiting Infarrantly Creative's site, you will want to not only check out some of the other fun printables but also peruse the craft tutorials and check out the awesome projects.
If you are looking for a simple, no-nonsense blogging planner, then this may be the one for you.  It has been for me, so far.  You can go HERE to get yours now totally free.