I am not a huge fan of peanut butter so when I was creating this cookie I had to rely on my family to let me know if it had enough flavor. After a couple of failed attempts, I got the "thumbs-up" from my husband. This soft cookie is loaded with peanut butter flavor.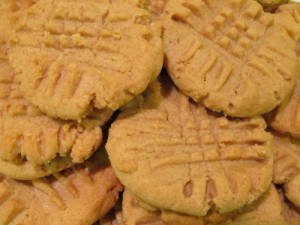 Ginny's Soft Peanut Butter Cookies (with variation)
1 ½ cups white flour
1 cup wheat flour
1 teaspoon baking powder
1 teaspoon baking soda
¼ teaspoon salt
1 cup butter, softened (2 sticks-I use unsalted butter)
2 cup creamy peanut butter
1 cup packed brown sugar
1 cup white sugar
2 eggs
1 teaspoon vanilla extract
1 tablespoon milk
1 carton prepared chocolate frosting (for cookie variation)
Pre-heat oven to 350 F
In medium mixing bowl, combine flours, baking soda, baking powder and salt and set aside.
With electric mixer in large mixing bowl, cream butter, peanut butter, and sugars together.
Beat in eggs, one at a time. Add milk and vanilla.
Add flour mixture to creamed mixture. Stir to combine.
Cover bowl with plastic wrap and chill in the refrigerator at least one hour until dough is firm or overnight.
Roll about 1-2 teaspoons of dough into balls. Place on cookie sheets about 2 inches apart. Use a fork to make the traditional criss-cross pattern and to flatten the dough balls a bit. (You can use the bottom of a glass to flatten dough also if you do not wish to have the criss-cross pattern.)
Bake on un-greased cookie sheet for 8-10 minutes until set. Do not over bake.
Let cookies cool on baking sheets about 2-3 minutes, then move to cooling racks. Let cookies cool completely, about 15 minutes.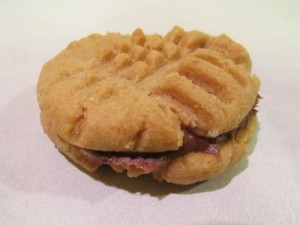 Peanut Butter Chocolate Sandwich Cookie Variation: To make peanut butter chocolate sandwiches, simply spread a layer of frosting on the bottom of one cookie and top with another.
Download a PDF of this recipe here.