For week 8 of Many Little Blessings and iHomeschoolNetwork.com "10 in 10" series we are talking about the 10 reasons we are excited about this new school year.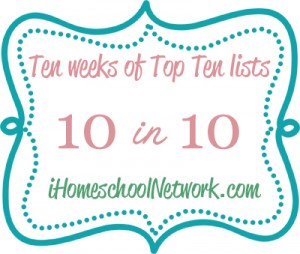 Every year I get excited about the new school year (probably more so than my kids) but this year will definitely be different for us.
I will be homeschooling only one-my daughter.
My son will begin his college years in August and, while I will be available to help him if he needs it, it won't be the same for sure.
Scheduling time should be simpler with only one. No one has to wait on the other to finish up to do things together.
It has been a lot easier selecting curricula this year because I don't have to think about what I can use for various grades. We can just select what my daughter needs.
I am really looking forward to using the Notgrass curricula that combines history, English, and Bible study all in one.
This year we will be able to spend more time on 'girly' things like sewing, homemaking skills, and maybe even learn about natural beauty treatments.
My daughter is one of those who likes to get right to her schoolwork and finishes her assignments early so this may mean more free time for us to do other things.
We are looking outside the home to take special classes like watercolor painting at Hobby Lobby.
I am excited to be spending lots of one-on-one time with my daughter, building a stronger relationship.
I am most excited about watching my children to continue to grow in their walks with God and to see where He will lead us.
Are you getting excited about starting a new school year too? What are you looking forward to the most?