A few months ago we began to give the kids' bathroom a much needed facelift. After years of the same light brown bathroom walls with red tulip border, forest green vanity, and white and blue pattern linoleum, a re-do was long overdue. I wish I had some before pictures to share so you would get the total effect of time and age of the room, but you will just have to take my word for it. It was bad.
I wanted something much brighter and decided shades of blue would give a peaceful feel to the room. We replaced the commode (it had issues) and the sink top and painted the old vanity to match the trim color. We gave the ceiling as well as the linen closet door and the entrance door a fresh coat of white paint. It's amazing what new paint can do for a room.
This weekend we were able to put in the new floor. We started by tearing up the old linoleum. Taking up the 25 year old linoleum started out easy and came up pretty good, but then we hit a snag when the paper backing would not come up. We tried for a couple of hours but it really was a pain, so we went out and purchased a couple of sheets of underlayment. Before we laid it down I could not resist leaving a few messages for the future homeowners who may one day need to redo the bathroom.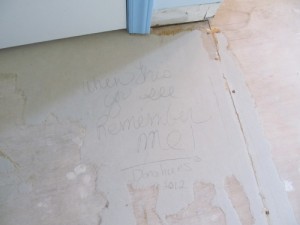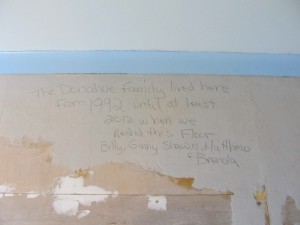 This is the bathroom after tearing up all the linoleum:
Under layment down:
Finished floor, bathroom almost back together:
Finished bathroom (minus curtains that I need to make). The kids say the life preserver ring mirror is too small so that will need to be replaced, but I totally love the nautical look.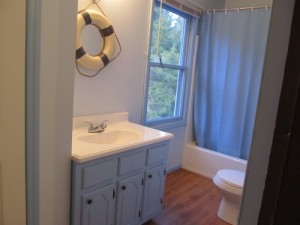 It really came out as good as I imagined.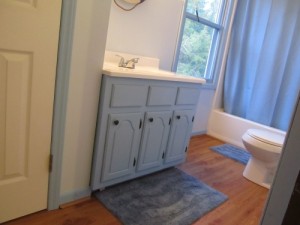 Did you tackle a weekend project?