After many years of the same spring wreath adorning our front door, I was ready for a something new. Because the silk flowers from the old wreath showed their age not to mention the crud of years of outdoor life, I removed them all from the vine wreath and tossed them. A quick trip to Hobby Lobby and I picked up the rest of my supplies.
To make my wreath this is what I needed (I've also included a 2012 retail cost break-down. I used coupons, purchased stuff on sale, and used what I had on hand so my cost was significantly less):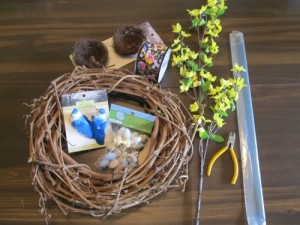 1 vine wreath (I had mine on hand but they go for about $2.99)
1 sprig silk forsythia-($1.99)
1 package (2 per pack) bird nests (found in bridal department) ($2.99)
1 package (2 per pack) little birds (also found in the bridal department) ($2.99)
1 package (24) of craft Easter eggs on picks ($2.99)
About 1 yard wire edge ribbon (I had a roll on hand but a 3 yard roll usually goes for about $3.99)
Not shown-I used a few scraps of silk leaf vines (free from your stash)
Floral wire or any other means of attaching sprigs to wreath
Wire cutters
Total retail cost of supplies: @$14.95
My cost breakdown:
wreath- (on hand) free
forsythia-(40% coupon) 1.19
cost of 1 nest-(50% off) .75
cost of 1 bird-(50% off) .75
cost of 3 eggs-(50% off) .19
ribbon-(on hand) free
My total actual cost-$2.88
I have added the extra nest, bird, and eggs to my craft supplies for another someday project.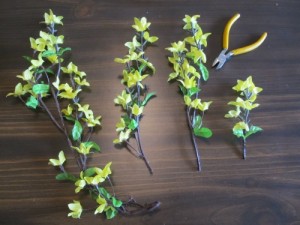 Step 1: Cut the forsythia sprig into smaller sections.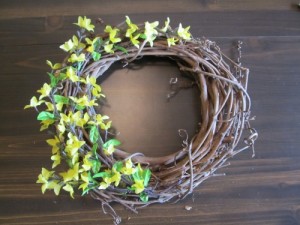 Step 2: Arrange sprigs and attach with wire to wreath.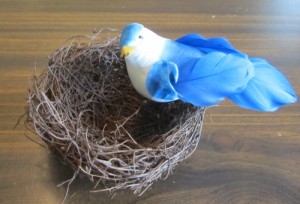 Step 3: The bird comes on a wire. Attach bird with the wire to the side of the nest. (leave the wire that attached the nest to the package on the nest. We will use that later.)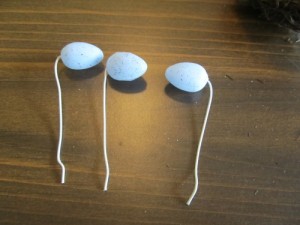 Step 4: The little eggs also came on wire. Select 3 and bend the wire to about a 90 degree angle as shown.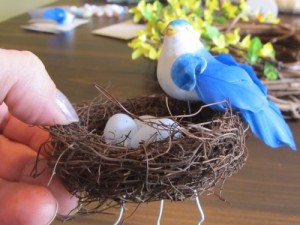 Stick the egg wires down through the nest.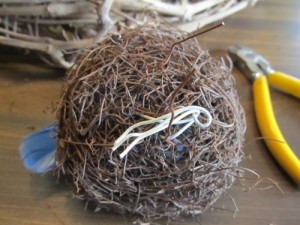 Fold and twist the egg wires under the basket. Leave the basket wire extended.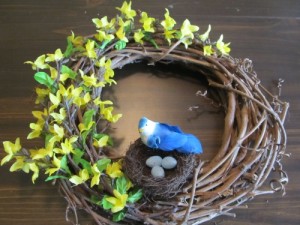 Step 5: Using the nest wire, attached to the vine wreath.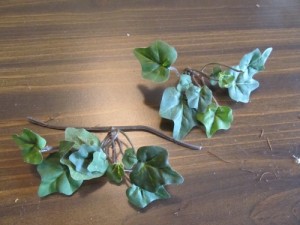 Step 6: I have a stash of random greenery pieces left over from other projects. I chose a couple of little sprigs of vine leaves.  .  .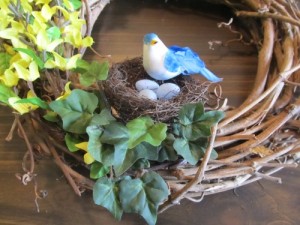 and added them underneath the nest for a little flourish.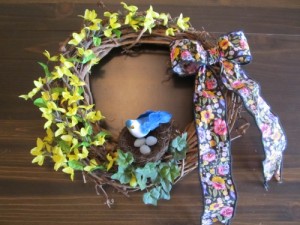 Step 7: Make a simple wire ribbon bow and using floral wire attach to the side of the wreath.  And viola! A pretty spring wreath to adorn your door made in less than an hour (more like ½ an hour.)
Decorating our front door
What do you have on your front door?